The Driving Force – Women in the Automotive Industry Presented by Kukui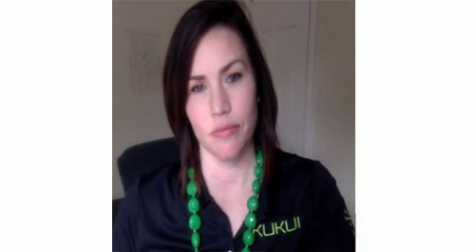 On Oct. 18, Kukui Corporation's Jimmy Lea hosted a webinar entitled "The Driving Force – Women in the Automotive Industry" where he was joined by six automotive industry experts who happen to be women as they discussed their careers and their vision of the future.
Kukui's description of the webinar pointed out, "Eighty percent of all automotive buying decisions are made by women. Every year, women spend over $200 billion on vehicle purchases and repair services. And yet, less than 20% of the total workforce in the automotive industry are women."
The panel consisted of Megan Dineff, customer service manager for Ervine's Auto Repair; Jamie Carlson, owner of Ervine's Auto Repair; Cindy Frasca, COO of Kukui; Kathleen Jarosik, owner of Xpertech Auto Repair; Laura Frank, co-owner of Auto Repair Technology; and Leigh Anne Best, co-owner of Might Auto Pro Medina's Complete Auto Repair and Care. Over 200 attendees registered for the webinar which began with a conversation about how each panelist got involved in the industry and what opportunities the industry offers.
Dineff jokingly indicated that Carlson, her mother, tricked her into the business, and Carlson emphasized that there are many opportunities in the industry for men and women. Frank agreed, "The industry has really changed, and it's not just about fixing cars anymore. It's about relationship building and how we're serving our customers in that arena."
Best noted, "Automotive is a male-dominated industry, but change is starting with female shop owners. We start the relationship building. It's wonderful when we go to industry events and see so many women owners and leaders."
Jarosik added, "Putting ourselves out here in public and sharing that we're in so many different facets of the industry – it's huge! It's such a fun industry to be in now. It's that ripple effect of touching people. This wasn't my dream. I don't know that any of us wanted to work in the automotive industry as kids, but as soon as I started stepping into those shoes, I knew I was home."
Frank and Best are also co-founders of Brakes for Breasts, and Lea asked them about their charitable organization which was founded in 2011.
In October 2019, over 230 shops participated, representing 38 states and two countries; 100% of the donations go to Dr. Vincent Tuohy to support research for the Cleveland Clinic Breast Cancer Vaccine Fund.
Frank and Best discussed how difficult treatment can be for victims of breast cancer and emphasized the importance of finding a vaccine to prevent the disease. Carlson, a survivor, urged shops to support Brakes for Breasts and encouraged women to have a mammogram done since early detection is vital. More information is available at brakesforbreasts.com.
When Lea asked the panelists about the unique ways that women are improving the industry, Frank explained, "The consumer has changed in the past couple decades, and it's become a female dominant consumer, so it's comforting for them to see a woman at the front counter and to have that female touch in the shop, such as clean bathrooms and fresh paint."
"We are women so we are better able to understand what women need," Best pointed out. "We can help make the experience less stressful. It's about taking their pain away and making it easier for our customers. We understand the female consumer because we are them."
Carlson contributed, "Just having someone at the shop whose job isn't to fix cars – there's a person whose mission is to make people feel welcome and comfortable. Sometimes, people coming into the shop are scared because they're waiting to find out what's wrong with their car, but a huge smile and greeting can change the whole mood of the visit."
Frank concurred, "It's not about how we repair cars; it's about how our customers feel when they leave the shop."
Dineff talked about her customer service role in the shop: "I'm not shy about the fact that I know nothing about cars. I know people though. I can see people and know how they're feeling. Everything I do is based on our relationship with our customers, and that's what matters most."
Lea observed that 80% of automotive buying decisions are made by women, and women spend over $2 billion each year on automotive purchases and repairs, yet less than 20% of the automotive workforce is comprised of women. In regards to encouraging women to enter the industry, Carlson rebuffed that idea: "I don't want a woman working for us just because she's a woman. I shy away from making opportunities just for women, but I promote all the opportunities in our field. I want a qualified employee, regardless of gender."
"I don't want to open the door just because you're female," Jarosik said. "I want to open the door because you're skilled and have the passion to learn! We don't just need bodies anymore. We need smart people that can keep up with the technology and want to do this. This current generation that's graduating from high school seems to be more open to going to technical schools and entering non-conventional female careers."
The discussion turned to how acceptable it is becoming to attend technical schools compared to pursuing a four-year degree, and the panelists also conversed on the expense of being a technician, the tools that must be purchased, and the largest items, such as scan tools, that are becoming imperative for the shop to invest in. Topics covered labor rates, certification, licensing, and educating consumers.
Lea then turned to Frasca to ask what Kukui does to attract female representatives. "I'm not going to compare men and women from an HR perspective," Frasca quipped, continuing, "What I will tell you is that we get amazing people through word of mouth. There are certain aspects we're looking for in associates. We need people who care, pay attention to details and really want to do what's best for our customers."
The panelists continued their fun, conversational tone as they answered attendees' questions, and the webinar concluded with Kukui's Patrick Egan conducting a drawing for a $100 Amazon gift card. A replay of the webinar is available at kukui.com/blog/women-in-auto-care-1.
Lea announced that the next webinar would include several more extraordinary human beings, including Mary Steele, executive director of ASA Florida, and he invited Jarosik to return as a panelist.