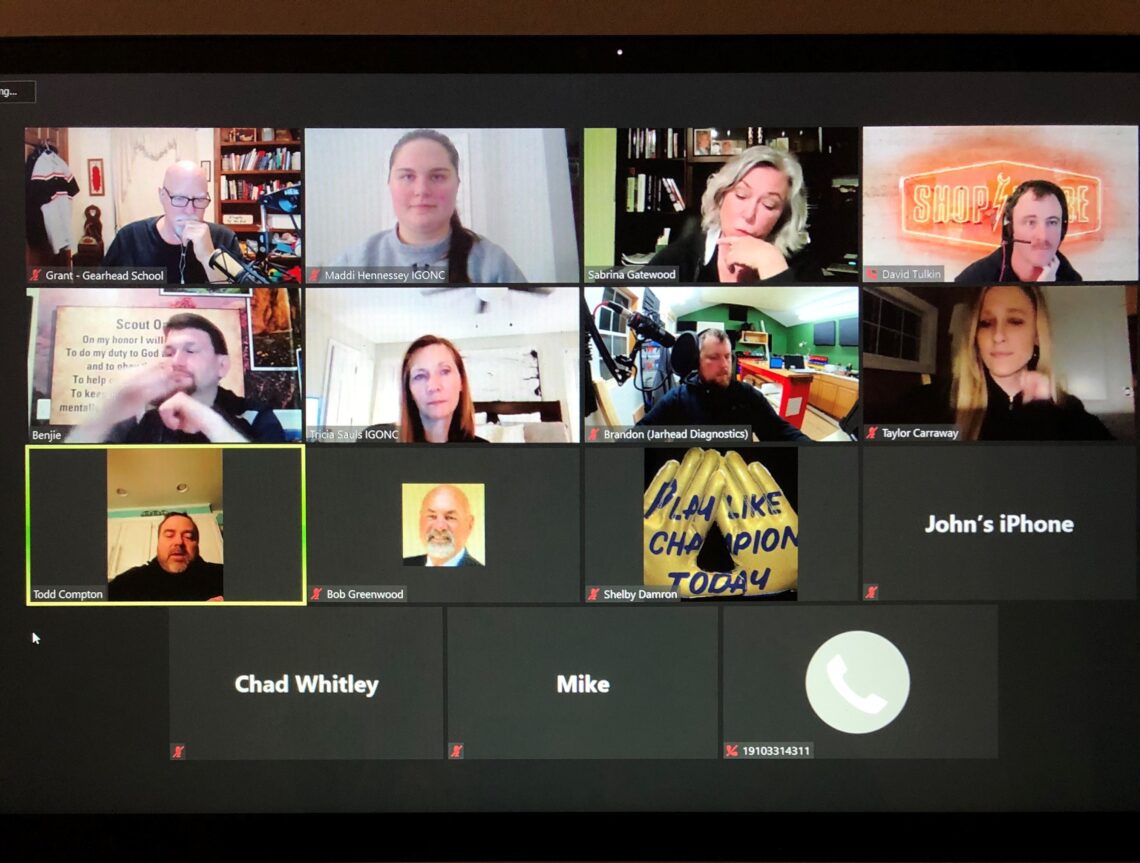 IGONC Members Discussed Thoughts on Employee Benefits During January Tireside Chat
By Chasidy Rae Sisk
During the association's monthly Tireside Chat on January 21, members of the Independent Garage Owners of North Carolina discussed employee benefits. According to IGONC Marketing and Membership Services Director Maddi Hennessey, "We discussed 401k and retirement planning, the impact of a minimum wage increase, and some of the unique benefits and perks different shops offer. The conversation went well."
Hennessey moderated, beginning by facilitating attendee introductions. She also offered the first example of a unique benefit, time off for volunteering.
IGONC Vice President Todd Compton of Compton Automotive in Charlotte, NC, explained that his shop pays for 50% of employees' healthcare policies, plus 100% of their dental and vision insurance. He also matches up to 3% in 401K contributions. Last year, he was able to offer a week paid vacation over Christmas and hopes to continue doing that annually. The group also discussed the benefit of utilizing Aflac for accident and short-term disability insurance.
Compton raised the topic of allowing employees to use the shop's equipment to perform repairs on their and their families' personal vehicles during their personal time, and PJ Leslie of Tekmetric informed attendees that an insurance agent told him that, in the event of a claim, any vehicle without a repair order would not be covered under the policy. Board member Benjie Burris from Frog Pond Performance added, "Even if you deduct the labor, having that RO covers us from a liability standpoint."
Discussing 401k options, Leslie suggested the value of utilizing a professional employer organization that compiles multiple businesses under a single umbrella to make employee benefits more affordable for small shops. Whitley Automotive in Locust, NC doesn't offer a 401k; instead, they've collaborated with their local bank's financial advisory department to offer simple IRAs for employees, with the employer matching up to 3%, according to owner Chad Whitley.
A few years ago, a new tech asked Compton if his insurance policy covered employees' tools, and he found that the rider in his policy only covered his personal tools. He was able to update the policy inexpensively, and "now, that's a benefit we can promote to new hires," he said, as the group discussed the value of providing technicians, especially apprentices, with tools.
Bob Greenwood, president and CEO of the Automotive Aftermarket E-Learning Centre Ltd. (AAEC), contributed, "This industry is a trade, not a profession, yet someone just entering the industry isn't likely to be paid well. So, we don't pay them enough, and then we also expect them to buy their own tools. Supplying the tools they need while in the shop is one way to ensure incoming techs are properly looked after. We see too many people leave the industry because they can't make a decent living. Could you actually live and raise a family on what you pay your staff? If you can't, how do you expect them to?"
Greenwood shared another benefit idea: Starting on an employee's second year, they receive a credit worth $1,500 yearly that can only be applied toward family home electronics or a family vacation. "This is a great way to encourage them to spend time with their families," he said.
At Frog Pond Performance, employees are encouraged to have lunch with their kid. According to Burris, "It's important to encourage your techs to spend time with their family. Go to your kid's sports event, accompany them on a field trip… When we're dead and gone, there will still be cars to fix, but our kids are going to grow up and be gone way too soon."
"Culture can help offset pay," Shelby Damron from Jasper Engines & Transmissions proposed. Brandon Dills of Jarhead Diagnostics agreed, "If [your employees] don't feel like this is the best job they've ever had, you're not doing your job right."
Damron added, "Techs that feel like the business is their responsibility, when they take ownership of it, those are successful businesses. Get your techs involved in other aspects of the shop – they have great ideas, and when you can implement their idea, reward them for it."
Leslie provided an example of an employee who received a process improvement bonus for suggesting a better way to park vehicles in the shop's lot; it was implemented and increased efficiency.
Additional benefits that were discussed included profit sharing, team building exercises, training on-site and off-site, incentive programs, bonuses, and rewards for implemented process improvement ideas.
While offering tons of great benefits is important, it's equally important to make sure people are aware of those benefits, according to David Tulkin from Shop-Ware. "Showcasing your benefits on your website or your job posting is just as important as having them in the first place. You have to leverage those benefits to help attract the new talent you need – let everyone who doesn't work for you know what you have to offer."
Hennessey pointed out, "You're trying to 'wow' them just as much as they're trying to 'wow' you."
As the Tireside Chat concluded, Sabrina Gatewood from Gatewood's Automotive in King, NC, shared, "I really enjoyed hearing everyone's thoughts. It was really interesting and makes it feel like I'm not all alone."
Burris reminded attendees, "IGONC hosts these events regularly, so please get involved!"
"At our high point, we had 18 people on the webinar, and we finished with 15 people, with a great mix of shop owners, industry professionals and representatives from our partner vendors," Hennessey noted. "It was great to have a consistent crowd stay for the entirety and participate in the conversation. The open forum discussion format allowed for great conversation flow and transitions into topics of interest."
IGONC began hosting this monthly event in November, and while the association is happy to see a "core group of regular attendees, it is always a pleasure to see new members and non-members join the conversation, too. When we created the Tireside Chats, we wanted to avoid another presentation-style webinar and host something more like a casual conversation with peers," Hennessey said.
Tireside Chats focus on specific topics related to the industry, and attendees are encouraged to participate and share their thoughts and ideas. "It's an opportunity for our members to chat with each other and invite non-members in the industry to join the conversation and have their opinions heard.
"As an association, it's important to consistently host events for our members and nonmembers. When COVID limited us from hosting in-person events, we knew we had to provide value to our members by hosting virtual events that cover a large variety of topics, just as our in-person events would. It's our job to provide our members with updated information, trainings, and certifications," Hennessey explained.
IGONC plans to continue hosting its monthly Tireside Chat, though whether it remains virtual or becomes an in-person event after the pandemic has not yet been determined. Each webinar is recorded, and a copy can be received upon request by emailing [email protected].
For more information on IGONC and its future events, visit igonc.com.