Spot Welder Donation Helps Paulding County High School Kick Off Collision Program Start Up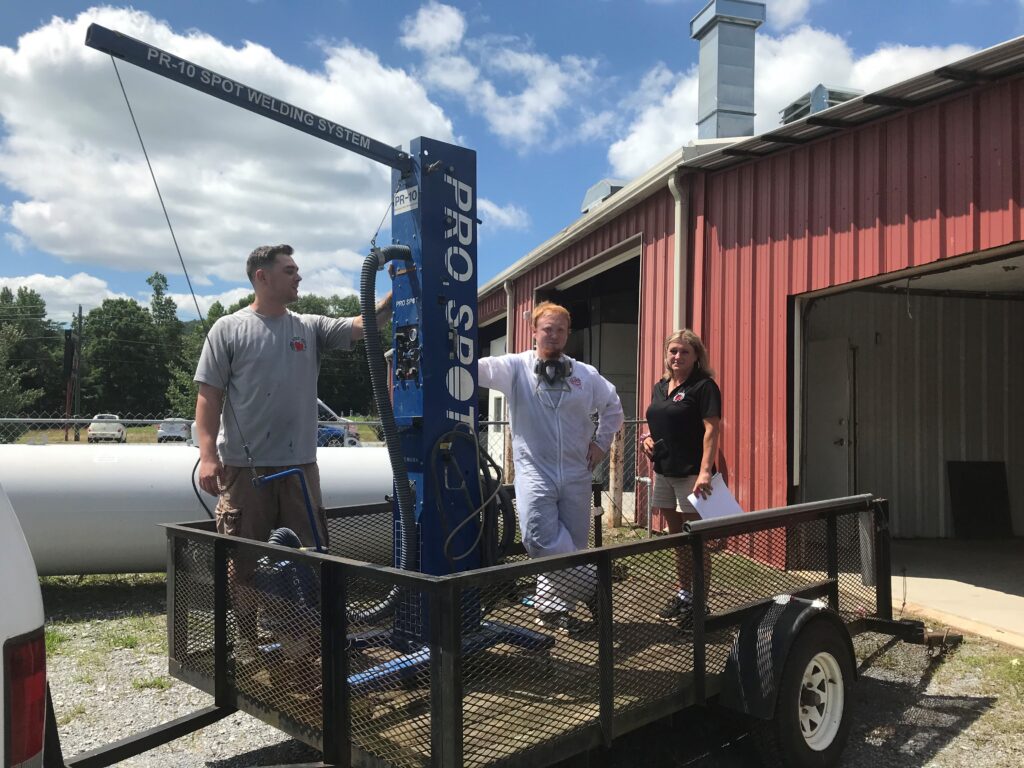 By Chasidy Rae Sisk
As schools gear up for the next year of learning in a brand-new world, Paulding County High School in Dallas, Georgia will be unveiling a brand-new program for collision repair education. According to Leroy Goodwin, automotive program instructor for the past six years, "This is the first time ever that we've been able to teach collision repair in Paulding County. Our students were graduating without any experience in auto body repair, and when we polled students, we found that there was plenty of interest. They can't wait to get started!"
Students at Paulding County High School will begin with one year of a basic introduction to automotive, before choosing an automotive or collision pathway, though some may be able to complete both simultaneously. The school has received significant support from the local collision repair industry while preparing for its new program.
Tom McFinch, Principal, Business Development Southeast Region for I-CAR, shared, "The Atlanta I-CAR Committee has put a lot of resources and support behind this program, starting last year through CREF donations. More recently, Candy Apple Custom donated a spot welder to assist getting this program off of the ground."
Ken Sargent, owner of Candy Apple Custom, is excited that local schools are beginning to offer vocational opportunities in recognition of the industry's shortage of skilled techs. "I'm very encouraged that schools around here are starting to offer more vocational training. We need more young folks in this industry. Cars aren't what they were 30 years ago – they're complex and require computer-savvy techs. Our industry needs more open-minded young talent, willing to learn new stuff and apply their knowledge to collision repair."
Several painters and technicians at Candy Apple Custom are Paulding County alumni and former students of Goodwin's, so when the shop upgraded its spot welder, they mentioned the school's need for equipment to Sargent. "I wasn't really involved, other than agreeing to the donation," he admitted. "I have a young team because we like to hire guys right after school to give them an entry-level opportunity where they can make a great living, and then we help them reach A-level technician status. Several of my guys are planning to volunteer at the school on Friday afternoons after we close. I'm happy to support the next generation of collision repair technicians and proud that my team is just as passionate about the industry's future."
"Candy Apple Custom's donation was huge and impactful," Goodwin said. "Receiving the spot welder shows the doubters that we can do this. We don't have many of the tools we need, but I have plenty of students who are willing and eager to learn. I'm so proud of them all; I'll teach them how to do this job, even if I only have one hammer and two dollies to train them!"
Melissa Dunn, Paulding County High School Advisory Committee Chair for the Collision Program and a member of the Atlanta I-CAR Committee, noted, "Mr. Goodwin is a great person, who cares about the students and wants to provide them with a comfortable learning environment that includes the proper equipment to get them started on a lifelong career."
"If we want to see the collision industry thrive with qualified technicians, we need to be a part of the process from the start," Dunn added. "Generous donations, such as this Pro Spot Welder from Candy Apple Custom, are a great way to make a difference. I would encourage everyone in this industry to get involved with your local school's programs – donate materials or scrap parts so the students can practice pulling dents from sheet metal, de-trim doors, or even learn plastic bumper repair. Automotive technology is changing at a very rapid pace, and these students need our knowledge, experience and support to become successful in this industry."
Fortunately, Candy Apple Custom isn't the only local collision shop or supplier to donate tools and equipment to the school, though "they helped start all of this with that first tool donation," Goodwin stated. "So far, everyone around here has been trying to help us out with donations, but more importantly, they will hire this next generation of collision repairers after they graduate.
"The industry is in desperate need of young techs because many of us are getting older and can't work as much. I'm an old man, the oldest teacher at the high school, but I'm providing these kids with as much experience as possible through our class," Goodwin continued. "Our industry needs to support the schools who are educating the young talent they're seeking in their shops. If we don't develop these talented kids with an interest in collision and automotive, our industry will be in serious trouble."