St. Louis I-CAR Committee Prepares for Upcoming Job Fair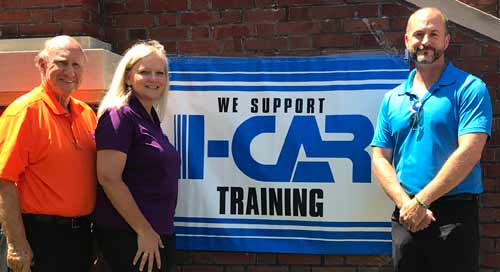 On July 11, the St. Louis I-CAR Committee gathered to discuss the group's goals and their upcoming job fair.
According to Committee Chair Shelly Jones, "Regarding the goals, we are over halfway there. With upcoming events planned, we anticipate reaching Gold Status again this year."
Gene Slattery, committee education coordinator, shared information about the upcoming job fair with the group. The Gateway Automotive and Collision Job Fair is scheduled for Friday, Sept. 27, from 8 a.m. until 2 p.m. at Gateway Motorsport Park in Madison, IL.
The St. Louis I-CAR Committee anticipates the attendance of 750 automotive and collision repair high school and college students; however, due to this year's partnership with the National Hot Rod Association / Youth and Education Services (NHRA/Y.E.S), 1,000 students in STEM programs will also be invited. The Committee believes, "With this kind of turnout, you are sure to find a great student that you will want to hire or keep in your files for future employment."
The annual job fair benefits the Collision Repair Education Foundation (CREF). In 2018, over $33,000 was raised during the event and split between the participating collision schools to buy supplies, tools and equipment. Slattery shared, "Our event is always the talk of the entire Gateway/NHRA race on Friday, Saturday and Sunday. NHRA industry people told us that the I-CAR Job Fair was the best thing they had seen for the industry. They were all impressed by the automotive and collision repair students walking through the pits, wearing I-CAR T-shirts and the professionalism they showed handing out resumes."
The St. Louis I-CAR Committee will provide snacks, water and lunches for all participants, and NHRA is funding student tickets and backpacks. Multiple sponsorship levels are available; but, although sponsors can sign up any time before the event, registration must be made by Aug. 1 to be included in the student guide. Information and registration for sponsors is available at icarstlouis.weebly.com.
During the meeting, Jones also shared information on a recent event Committee members attended: "In order to highlight the value of collision repair careers and share I-CAR with the general public, Shawn Counts, Gene Slattery and I attended Ranken Technical College's Summer Camp on July 12. This was the final day of Ranken's sold-out summer camps for middle school students. Students were from many area schools. Parents attended the final day of camp to watch their children race their projects. The three committee members handed out I-CAR flyers, promoted the careers in the collision industry and promoted the collision programs at area high schools."
Jones also discussed the BodyShopology webpage, powered by I-CAR and Committee Vice-Chair of Training John Helterbrand talked about I-CAR class schedules at Ranken. Counts, vice-chair of marketing, provided details on his plans for future updates on the group's Facebook page.
The St. Louis I-CAR Committee will meet again at Ranken Technical College on Sept. 12 for their final preparations before the Gateway Automotive and Collision Job Fair on Sept. 27.
For more information on the St. Louis I-CAR Committee, visit facebook.com/ICARStLouisCommittee.