WIN-Sponsored Giving Event in Denver Benefits Foster Kids and Military Families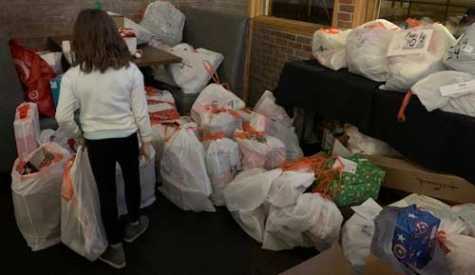 On Dec. 11, the Women's Industry Network (WIN) sponsored a giving event at the Blackbird Public House in Denver, CO.
WIN Board Member Kim Frasher explained, "It was held to benefit the foster kids and military families of Denver public schools to provide gifts for over 90 children, many of whom have never had Christmas gifts prior to becoming a foster child. We worked once again with the ESSA program of Denver public schools, who were present to help load the gifts and then distribute them to the families."
WIN members and their teams from work were joined by collision repair program instructors and female students from Lincoln Tech as they sorted, wrapped and loaded gifts "donated by members of the Denver public schools community, Gerber and Axiom employees, collision industry friends, and Blackbird Public House," Frasher explained.
The event was coordinated by Frasher, who works for Axiom Repair, in collaboration with WIN's Ashley Thompson who attended along with John Smith and members of their team at Gerber Collision. "We had over 25 in attendance and will gain several new members for WIN as a result," Frasher said. "This charitable cause was chosen because both Gerber and Axiom believe greatly in the vision of WIN, the importance of outreach and service to the community, and the power of teamwork."
Frasher added, "Foster kids especially were chosen because they are often overlooked when it comes to holiday toy drives, and statistically, 40-50% of the foster children without a family network who "age out" of the system are likely to become homeless. We want them to know about the collision community and that we are a caring group of individuals within an industry that is full of opportunity. I hope that maybe some of our most vulnerable youth will see hope in auto collision trades and the chance to build a bright future that they might not otherwise have known about. The holidays have a special way of bringing people together for a greater cause. Something as small as a few Christmas gifts from a stranger can make a huge impact!
For more information, visit womensindustrynetwork.com.