WIN Discusses 2020 Hiring Trends in the Collision Repair Industry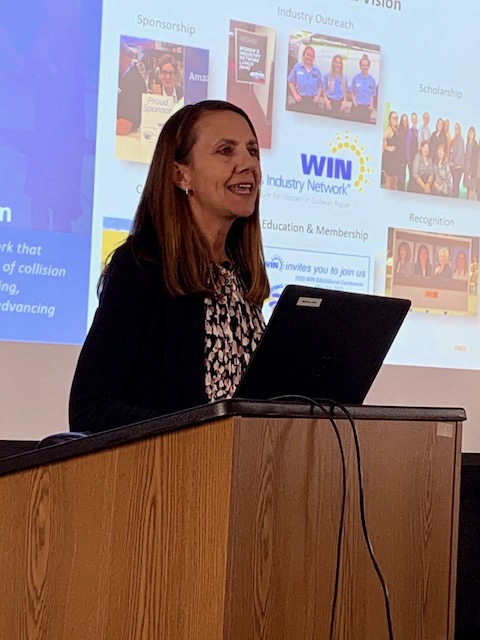 On March 11, the Women's Industry Network (WIN®) held a regional event in Fairlawn, OH, offering an informative presentation in collaboration with BodyShop Business, who hosted the event at Babcox Media's headquarters and presented results from its recent nationwide study of tomorrow's technicians. This was the first WIN event to ever be streamed live on Facebook as panelists explored why techs choose a collision repair career, what their priorities are when thinking of a career, and why women are becoming a significant presence in the industry.
WIN Chair Cheryl Boswell kicked things off by welcoming attendees and thanking the event hosts. She introduced attendees to WIN as an organization, sharing information about WIN's history and goals, as well as its scholarship and MIW programs.
Boswell passed the microphone to Jason Stahl, BodyShop Business Managing Editor, to address the tech shortage in the collision repair industry. He began by examining the current workforce, using a 2019 BodyShop Business industry profile. He noted that the average age of body shop production personnel is 42.7, and while 32% of front office personnel are female, only 9% of production shop personnel are female. Interestingly, 83% of shops reported experiencing challenges finding body techs, while only 41% struggled to staff their front offices. Stahl also examined the sources shops use to find new techs and how often techs are replaced.
Diving into the shortfall, Stahl cited an I-CAR study that claimed 56,000 body shop jobs were unfilled in 2016, and according to the TechForce Foundation, the average annual demand for techs is 120,000.
Bruce Kratofil, Babcox Media Audience Insights Manager, took over to present the key findings from the survey. He began by explaining that there were two separate surveys of two individual groups: the Gens and the Techs. The Gens, 420 respondents surveyed in July 2019, were all between 18 to 24 years old and split equally between male and female. Over 60% of the Gens were in a school or training program; nearly two-thirds of those were enrolled in college, while only 4% were attending a technical school or training program. While 70% of the Gens were working, only 57% of employed Gens were working in their chosen career field.
From September 2019 through February 2020, BodyShop Business conducted a second survey with 222 respondents, 81% male and 19% female, and this group is known as the Techs because they were recruited from tech schools and CREF programs, through outreach to the younger employees of collision companies, and by soliciting input from readers of Tomorrow's Technician. "The age range of the Techs was broader, but they are all still starting out," Kratofil explained.
While 64% of Techs were enrolled in some sort of educational program, nearly half of them were attended a tech school or training program, while just over 20% were still in high school. Of the 73% of Techs who were working, over 60% were employed in their chosen career field, while 5% hadn't yet chosen a field.
Explaining the difference between the Gens and the Techs, Kratofil said, "Techs are a subgroup of the Gens. The Techs have at least taken the first step in a career in the automotive or collision skills trade. Looking at these two groups can help us better understand where the collision repair industry should focus its recruitment efforts."
During the surveys, participants scored a series of agree/disagree statements on a scale of one (strongly disagree) to five (strongly agree). Gens rated "I've considered a career in skilled trades" as 2.92 overall, with males rating it a 3.3 while females gave it 2.55. When asked about the trades considered, 9% of male Gens and 8% of female Gens considered auto care tech, while 5% of males and 2% of females considered collision tech as a trade to pursue.
In regards to feeling certain about their career choice, Techs expressed more confidence than Gens, and there was a large difference between male Techs and male Gens when it came to who was encouraged to go to college; the females of both groups were nearly equally encouraged to attend university. With the aptitude statements asked, males of both groups tended to enjoy working with their hands and fixing things more than females, but the male Techs outranked the male Gens.
When asked about what they look for in a career, such as high salary, benefits, job security, and a clean, safe workplace, the Techs rated nearly every factor higher than the Gens, and the male Techs rated all things higher than female Techs, other than "clean, safe workplace." Techs in the collision field were specifically asked what factors made them consider a career in collision repair, and most men reported that it was interesting work and they enjoyed repairing things. Having family in the industry didn't seem to be an important factor in the career decision, but Kratofil noted, "People in the tech programs seemed to be more blue-collar than the Gens, so that may be support for recruiting in trade schools instead of more white-collar areas."
As panelists opened the floor for questions from attendees, Boswell discussed the importance of promoting collision repair careers to children from a young age. "Most children don't even think about this industry unless they're in a car accident or are exposed to someone who works in the industry. It's imperative that they hear messages about the industry earlier so they know it's a viable option, and we also need to be educating parents because many do not understand what a great living can be earned in this industry."
Attendee discussed common perceptions of the industry being outdated with dusty, dirty shops, despite the reality that repairing vehicles has become so much more high-tech than most people realize. Kratofil pointed out, "Electronics was more popular than automotive for Gens, but automotive is primarily electronic now and they just don't realize it."
Aimee Szymans, BodyShop Business Managing Editor, then facilitated a few questions to presenters. Boswell encouraged technicians interested in getting more involved with the industry to join WIN, stressing the importance of the association's resources and availability of mentorship. Discussing the reasons there's not enough interest in the collision repair industry, Stahl recommended shops participate in apprenticeship programs and get involved with CREF and their local associations.
Boswell pointed out, "A lot of times, we get new techs in the door, but then we lose them as an industry. We fail to retain new techs because we don't set up a career path, train them and help them succeed; we have to actually support them once they come on board by helping them grow and giving them access to the resources they need to develop and be successful. If you offer the right resources, you're going to have a higher retention and success rate. Help your techs grow, and they're more likely to stay in the industry."
Referencing some of the discrepancies between the genders in survey results, Szymans asked if the industry presents as many opportunities for women as for men. Kratofil pointed out, "If you ignore 50% of the population, it makes it harder to fill your positions," and Stahl added, "I don't think shops can afford to ignore the female population if they want to fill positions given the tech shortage."
"It's 2020, and it's time to get away from gender-biased positions," Boswell expounded. "I hope we've progressed beyond that. If someone is interested and has the necessary skill set, they can do any job available in the collision repair industry; gender is completely irrelevant, and we need to support all the people in those roles to ensure the future of the industry."
Proceeds from WIN's Regional Event will benefit the WIN Scholarship Fund. For more information on WIN, visit womensindustrynetwork.com.