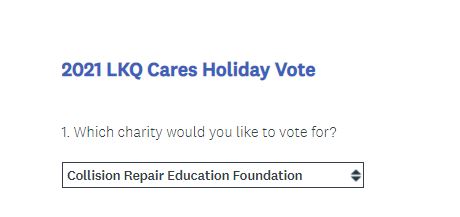 CREF Asks for Your Vote to Support School Programs through LKQ Cares Holiday Fundraiser
Never before has there been an easier way to support the Collision Repair Education Foundation (CREF) – potentially in a BIG way! LKQ is launching its inaugural LKQ Cares Holiday Vote on Giving Tuesday which provides a chance for ten charities to compete for the biggest share of $400,000. CREF will be participating against a list of national and international charities that includes the American Cancer Society, Red Cross, UNICEF and the World Health Organization (WHO) Foundation.
"The Foundation is competing with some of the largest, best-known charities around the globe, so it's basically a 'David v. Goliath' situation," says Brandon Eckenrode, managing director for the Foundation. "This is a great opportunity for the collision repair industry and any automotive enthusiast to be seen and heard by voting and helping generate awareness around who we are and what we do."
The LKQ Community Foundation donations through this program total $500,000 – each charity begins with a $10,000 donation, and the LKQ Community Foundation plans to distribute the remaining $400,000 based on the number of votes received now (Giving Tuesday) through the December 12th 11:45pm CST deadline. Each vote for CREF generates more funds for the Foundation. In turn, those dollars will benefit the future of the industry through school grants, student scholarships and other endeavors.
Supporting your industry is just a few keystrokes and mouse-clicks away. Go online to vote for the Collision Repair Education Foundation and encourage others to do the same. Together we can raise "some noise and some funds" that will benefit collision repair schools and students in 2022 by voting online by December 12th.
Industry members interested in getting involved and supporting the Collision Repair Education Foundation's efforts to assist secondary and college collision repair training programs should contact Brandon Eckenrode, Director of Development, at 312-231-0258 or Bran[email protected]. Monetary donations can be made online.
The Collision Repair Education Foundation, founded in 1991, is a not-for-profit organization dedicated to supporting collision repair educational programs, schools, and students to create qualified, entry-level employees and connect them with an array of career opportunities. For information on how to donate to programs supported by the Education Foundation, visit us online at: www.CollisionEducationFoundation.org.
###
If you would like more information about this topic, please email [email protected].