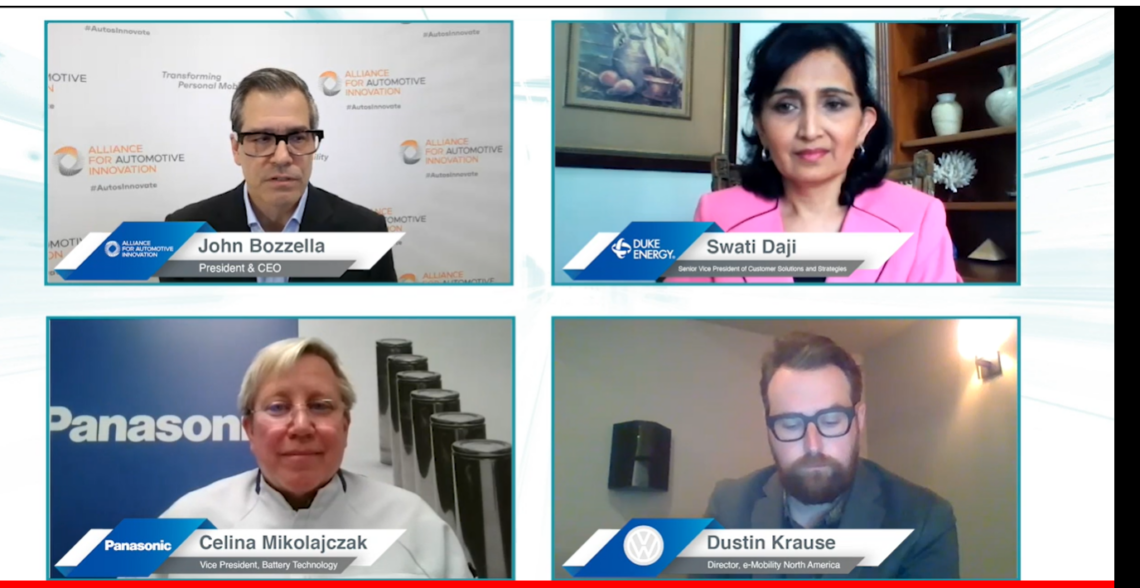 AAI Charges Forward with Future Driven Forum: "Accelerating the Electric Vehicle Market in the U.S."
By Chasidy Rae Sisk
"What's driving EVs, and what will it take to drive the EV market in the U.S.?" asked John Bozzella, President and CEO of the Alliance for Automotive Innovation (AAI), who moderated AAI's April 15th Future Driven Forum installment on "Charging Forward: Accelerating the Electric Vehicle Market in the U.S." Panelists included Swati Daji, senior vice president of customer solutions and strategies at Duke Energy; Dustin Krause, director, e-mobility North America for VW; and Celina Mikolajczak, vice president, battery technology for Panasonic.
Bozzella jumped in by asking panelists about what is driving momentum and creating the move to invest in EV. Krause identified the main drivers as consumer demand as well as pushes for sustainability from governments around the world. "Governments are pushing for these technologies to become mainstays for all the right reasons," he noted.
Mikolajczak addressed the consumer demand for EVs, "People really enjoy electric cars. There's a lot of convenience with this technology, which drives customer excitement. We can't seem to make EVs fast enough!"
The increase in EV interest is also generating momentum on the utilities side. Daji pointed out, "Electricity is the new fuel when it comes to EVs. We are committed to providing clean electricity and being a part of clean transportation; the cleaner the grid, the cleaner the transportation can be. We are prepared and really looking forward to the progression of this technology."
Bozzella pointed out that, while the industry frequently talks about how fast the EV revolution is moving, only 2% of the U.S. new vehicle market consists of EVs. Krause explained, "Millions of cars are pumped into the market every year, and while we can feel this change happening, there's likely to be a transition period. The good news is the demand is there, but as the demand grows, we need to make sure we are prepared with infrastructure changes so there are enough stations to keep up with the number of vehicles on the road. It's definitely a long-term initiative, and although we anticipate challenges, this is the most exciting industry to be in right now!"
Regarding infrastructure, Mikolajczak pointed out that factories aren't built overnight. "Lithium ion cells are highly engineered products requiring lots of complex equipment and automation, so we need to ramp up capacity. We are also evaluating how we can reduce cost in the raw material supply chain since that's one of the biggest factors in the expense of these products."
Noting that the vast majority of Panasonic's raw materials come from different parts of Asia, Mikolajczak noted that the company is working to develop suppliers in the U.S. and the EU. "We'd rather have raw materials from the U.S., but in reality, there's not a lot of that being done here, so we're working to grow that supply chain. It will take a lot of capital investments, as well as time and energy."
Developing an adequate infrastructure isn't "about trying to replicate the gas station experience," Daji stressed. "EVs will charge at home and at the workplace most often, so when we're talking about infrastructure, our job is to make sure electricity is available where the need exists – we need to jumpstart the EV market by providing affordability and equal access to this electricity for all. We're thinking about storms and evacuation routes so we can service those, ensuring resiliency, reliability and the availability of power so people can move from danger to safety. We're looking at this from the consumer's viewpoint to make sure it's affordable and convenient."
Krause recalled his recent cross-country drive in a 2021 ID.4: "It's amazing how much better it's gotten over the years. The first time I drove an EV across country was in 2010 when we had to stop to charge every four hours. Today, we went wherever we wanted without worrying about a place to plug in, other than the consideration of overnight stays."
He continued, "The trip taught me the three most important things for us to address: affordability, real-world range, and solving the charging equation. The secret to solving EV is resolving those three objections."
Discussing the amount of energy density that can be stored in a battery, Mikolajczak noted that the industry has observed an average annual 4% capacity increase as the cells continue evolving. She also pointed out the efficiency factors of being able to manufacture a single product instead of specialized batteries for each manufacturer.
Noting Duke Energy's commitment to net zero carbon production by 2050 and 70% by 2030, Daji said, "We want to go faster than that, but with renewable energy, it's very different to manage on the grid, so we are trying to modernize the grid to create a two-way flow. Hopefully, as new technology develops, that will help make this more cost-efficient."
Krause addressed cost-efficiency in terms of the $7,500 federal tax credits offered for EVs, which bring the "price points into a more palatable position," but he acknowledged, "We need to do a lot of education around explaining that credit to consumers at the point of sale, but an instant credit would be so much more beneficial. Also, we need to educate consumers about the cot of ownership benefits; EVs cost less to operate every year because the cost of electricity is significantly less than fuel."
Government support benefits the development of EVs for the battery manufacturers and energy suppliers as well. "I'm very excited about the Biden Administration's approach on this," Mikolajczak shared. "Having support from the government for this development is extremely important."
Daji agreed but noted, "There needs to be an alignment between the state and federal governments so we can align connectivity on both sides and ensure there are standards across all manufacturers. Manufacturers creating their own networks is inefficient and creates cost increases for vehicle owners. If we focus on a standardized, symbiotic market, instead of acting as competitors, we'll be able to provide a better customer experience."
"Charging is a tough problem to solve," Krause contributed. "We don't want to limit EVs to people with a garage, to a certain class of folks, so we need to give this a lot of thought. We also don't want someone always using the 30-minute fast charge option because that hurts the longevity of the battery. Access to charging stations needs to be the next thing we solve, but it has to be really carefully thought through."
EVs are also important from a global marketing standpoint. As Mikolajczak pointed out, "While the U.S. is having conversations about EVs, the rest of the world has a different conversation going on – most countries are limiting internal combustion engines and penalizing people who buy them. If U.S. automakers want to sell globally, they need to be competitive in manufacturing EVs, and in order to be competitive, you need some control of the supply chain, which is easier with a domestic supply chain. We are in danger of having our growth limited by other parts of the world if we don't develop a supply chain in this country."
"As we increase, the supply chain is going to be vital. They need to be localized in each market," Krause concurred, and Daji added, "Control of the supply chain is necessary before we accelerate growth of EVs. We don't want consumers adopting this new technology before the infrastructure is ready to support them because then we'll be contending with a negative impact on convenience.
Bozzella's final question for panelists queried when all vehicles will be EVs and how that journey can be accelerated. Krause began, "It will be faster than we think. We need to engage closely with consumers, because a light bulb goes off when we get consumer adoption. We also need to keep an eye on technologies to ensure we are driving down cost and getting these vehicles to the consumers if we want to grow EV quicker."
Mikolajczak believes, "We'll be at 80% a lot faster than most people think, though 100% EV adoption may take a while. Once you drive electric, it's a whole different world, and there are lots of opportunities – we need to embrace the change because this is happening! It's an exciting new world, so the industry needs to invest in it and go for it!"
Daji shared her experience: "I've driven EV for about seven years, and I don't want to drive anything else. That's the reaction from most EV owners because these vehicles offer a great driving experience. If we want to accelerate EV adoption, we need to make sure it's available for all, and we need to do that well."
After thanking panelists for the lively discussion, Bozzella introduced Scott Keogh, CEO and President of the Volkswagen Group of America, who offered some closing remarks. "As an industry, our future is electric. Drivers love what EV represents: great range, price and driving experiences – But Americans want sustainability without sacrifice, so there's not a one-size-fits-all solution. This moment calls for a serious commitment and investment as we work to meet the demand for sustainability. The long-term future of the industry is electric, but I'm just as excited about what that means in the near term. As an industry, we have a good start to both as we begin charting the path to a cleaner, safer transportation future."
For more information on AAI, visit autosinnovate.org.