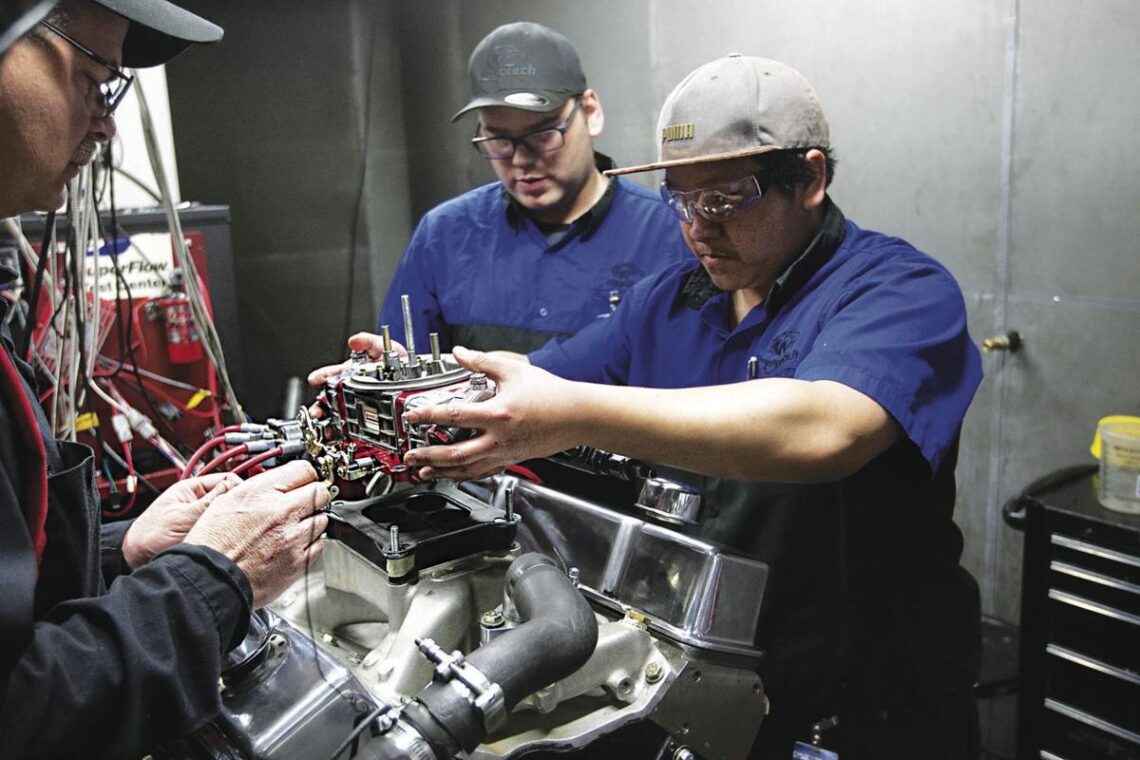 WyoTech Enrollment Increases by Nearly 6,000% in Three Years
By Chasidy Rae Sisk
When a new local ownership group purchased the Laramie, Wyoming campus in July 2018, only 11 students were enrolled in WyoTech's automotive, diesel and collision programs. After just three years, WyoTech expects to "see approximately 650 students on our campus by our October 2021 start," according to Cindy Barlow, director of industrial outreach at WyoTech.
Specializing in educating students for careers in the automotive, diesel and collision industries, WyoTech was founded in 1966 to "provide a top-notch concentrated training program that prepared students for the growing demand for technicians," according to the school's website. WyoTech underwent several changes in ownership since the turn of the century, before it was finally purchased by the current ownership group, led by Jim Mathis, with the intent of offering "the excellent training that has become synonymous with WyoTech."
An alum of WyoTech's diesel program, Mathis' career led him to a teaching position at his alma mater before he became the school's president until it was sold in 2002. When he saw the opportunity to revive the institution that's had such a huge impact on his life, he eagerly stepped up and helped save WyoTech.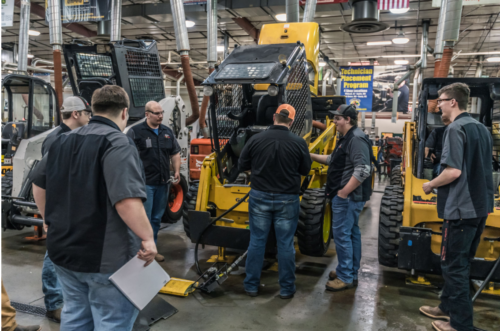 How did one man save WyoTech? He didn't do it alone! As the new CEO of WyoTech, Mathis assembled a team of instructors and administrators who share his passion for helping students prepare for careers in the automotive, diesel and collision industries. Passion is a point of pride at WyoTech, and it's an expectation established for students, as well. "We don't recruit any student with a pulse," Barlow said. "We're looking for kids who want to work with their hands, who are eager to learn, and who will want to stay in the automotive, diesel or collision industry because they are passionate about it."
Recruitment is imperative, of course, and to ensure the school continues to thrive, WyoTech has developed relationships between teachers, parents, students, and industry professionals. "Schools have to recruit, and that means creating relationships between teachers, parents, students, and industry. We talk to students about the trades, but we also talk to their parents because we need to change the perception of the 'greasy mechanic' – we don't give these highly skilled technicians the respect they deserve for keeping our vehicles safe, but we can start by improving how the trades are viewed," according to Barlow. "I am passionate about the trades, all that WyoTech has to offer our students, and working with the industry for creating opportunities to bring good techs to their shop floors."
WyoTech also invited local industry professionals to meet their instructors and view their programs. "The industry is frustrated because there aren't enough technicians available, but there's an easy answer – if we work together, we can solve the tech shortage problem," Barlow said, encouraging industry professionals to "support your local schools."
Industry relationships play another important role at WyoTech, as well. Through her industry contacts, Barlow learns "about the opportunities available for students, which we then share with the students on campus. In addition to helping build relationships between the industry and these new technicians, it allows us to make sure we are clearly articulating the expectations for graduates, both to inform the students and to make sure their future employer remembers that they will be an entry-level technician."
"Recent tech school graduates need to be nurtured as they start out," Barlow continued. "When anyone starts a new job, it takes time to settle in; it's impossible to start a new position knowing everything! We've helped the shops hiring our graduates to understand that this is an opportunity for their experienced team members to mentor the new techs. I love how shops are embracing their technicians, rewarding their efforts, and showing them how appreciated they are."
Luckily, WyoTech is graduating plenty of entry-level technicians for the automotive, diesel and collision industries to appreciate! Although the school closed for six weeks due to COVID-19, instructors have been actively teaching in-person classes since May 11, 2020. Barlow is "very proud to say that we are actively teaching and conducting tours every day on our campus."
In addition to its three core programs, WyoTech offers six specialty classes: advanced diesel, chassis fab, trim and upholstery, high performance powertrains, street rod, and applied service management. "At WyoTech, we can build the car from start to finish," Barlow said. "Our goal is to expand to offer additional trade courses and enroll 10,000 students by 2030."
In March 2021, 133 students graduated from WyoTech, and the school is on track to graduate its largest class to-date, with around 200 students. According to Barlow, "At WyoTech, we provide one of the best hands-on experiences, with four nine-month training programs for auto repairs, starting every quarter. While our students are at WyoTech, they spend 60% of their time in the shop, gaining experience and knowledge in automotive repairs and maintenance. Other technical institutes may offer shorter programs, but you will not get the same amount of experience as you will at WyoTech."
WyoTech places a lot of emphasis on ensuring they have the best staff of instructors who will hold students accountable for the standards they've set forth. "Students are expected to treat their educational experience like they would treat a job," Barlow explained. "They attend class from 7 a.m. until 4:30 p.m. each weekday. We require them to be shaven and well-dressed, with their shirts tucked in. If they're late twice, they will be released from the program. We hold them accountable for what they're learning and expect them to perform to the standard we've set."
A student's experience at WyoTech is enhanced by industry partnerships. "Some industry professionals provide current equipment that helps us keep overhead low and tuition down. Some fund scholarships, while other brand a room," Barlow noted. "Our industry partnerships allow us to keep the most current technology in front of our students and to make it possible for students to afford schooling. Our students receive diversified access to a variety of modern equipment and cars, and by allowing them to work on cars that exist on the road today, students stay interested and engaged."
In fact, WyoTech's response has been "so phenomenal that we're expanding our classrooms! The more we recruit, the most kids we find who are interested in the trades," Barlow shared. "Our diesel and automotive classes are full; those industries are so competitive that they are pulling collision students away because they offer wages that are $5 to $8 an hour higher than what auto body shops are starting technicians, so unless these kids are very passionate about restoring vehicles, they are transferring to those programs."
"I want to work strongly with the collision industry and think outside the box to attract and maintain students' interest in collision repair. It's not that the collision industry is less interested or less involved," Barlow clarified. "But the squeaky wheels get greased, and we hear from the automotive and diesel sides all day – they are speaking up so much that we just don't hear enough from collision in comparison, but when we reach out to collision repairers, they're willing to engage with WyoTech and our students."
WyoTech will host a career fair on May 19-20, and in response to students asking for collision repair employers to attend, Barlow contacted three local companies who signed up, but the other 64 companies attending the career fair are from automotive and diesel companies. "I'm afraid they just don't realize how much these students need the industry's involvement, and we need to get the word out to these students about what's available in the collision industry to keep them engaged with their education."
"We want to partner with the collision industry," Barlow continued. "We want to get techs trained and ready to work in your shops, but shop owners have to be good employers and provide an environment that new technicians want to remain in. We are looking for more industry partners to help us expand the collision side. If you want more techs, collision is going to have to prove it and get competitive like the automotive and diesel industries already have!"
Schools around the country are closing their collision repair education programs, and WyoTech wants to help prevent that as well. "Struggling schools should reach out to WyoTech," Barlow said. "We'd love to make presentations to schools, students and the industry to demonstrate what we provide, and if we have an oversupply of donations, we'd love to share! It's important that we get these supplies in the hands of the people who need them so they can keep teaching our kids these important skills and trades."
For more information about WyoTech, visit www.Wyotech.edu.
Photos of students provided courtesy of WyoTech