Blue Ridge Community College Expands Collision Repair Program with ARC Grant and Support from Local I-CAR Committee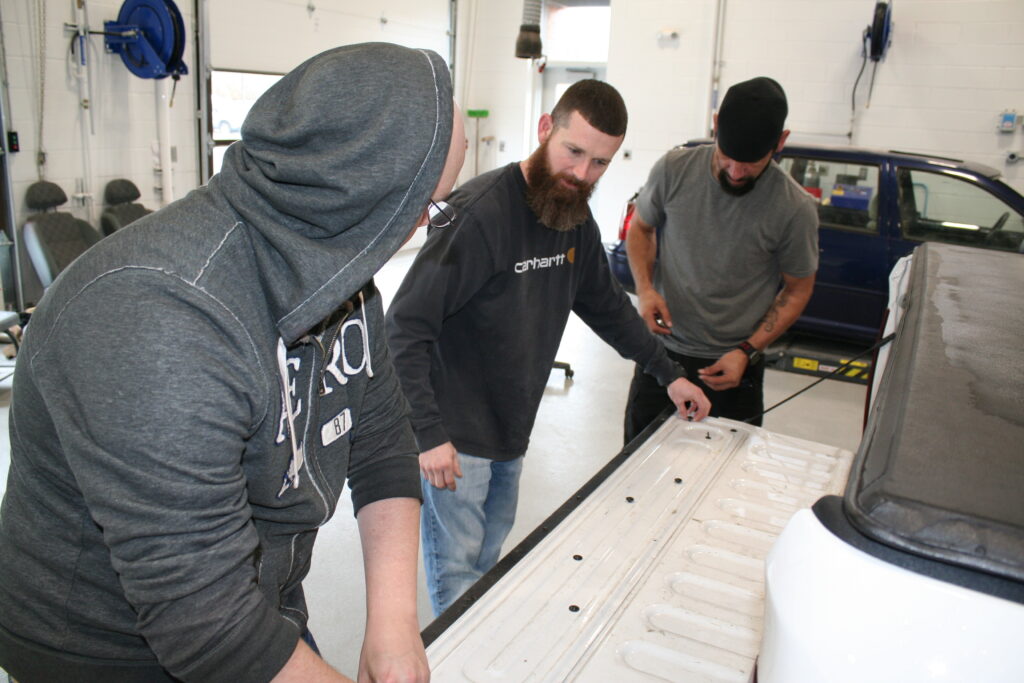 Blue Ridge Community College (BRCC), located in Henderson and Transylvania counties in North Carolina, was recently awarded a transportation program grant from the Appalachian Regional Commission (ARC), a regional economic development agency dedicated to innovating, partnering and investing to build community capacity and strengthen economic growth in Appalachia. According to Joe Shook, M.A. Ed., Dean of Advanced Technologies for BRCC, "We have a very robust transportation program, and collision repair is a large part of that."
The total ARC grant funding that BRCC will receive totals $589,000, and around half of that is specifically earmarked for the school's collision repair program, but a large portion of the amount left over will be used to "retrofit the transportation welding lab which the collision repair program will use along with the rest of our transportation programs and even some of the welding programs," Shook explained.
BRCC has redesigned and improved its collision repair program in recent years, largely with the help and inspiration of local shop owners. Their local I-CAR Committee has gotten involved with helping the school generate awareness of the program and ensuring that BRCC's curriculum is geared towards modern collision repair, rather than restoration and old technology.
When BRCC applied for the ARC grant, the Western North Carolina I-CAR Committee partnered with the school's administrative team to provide regional analysis on the needs in collision repair and transportation. "Our analysis demonstrated something we all know – that the collision repair industry has a shortage of qualified techs, and proving that dire need in the industry was a major contributor to why we received the grant," said Shook who also serves as the Education Representative for the Western NC I-CAR Committee.
Jared LaFave is also a member of the Western NC I-CAR Committee as well as BRCC's Collision Repair and Refinish program instructor, and he discussed some of the impacts made by the committee's involvement with the collision repair program. "Thanks to the I-CAR Committee's involvement with our program, we were able to reoutfit our collision lab last year to ensure we have a better standard of training to equip students to provide great output when they enter the industry, plus committee members have been instrumental in showing us how to grow our program to better suit the needs of the industry. As a result, we are able to educate students who are prepared to become better entry-level technicians when they enter the workforce."
According to BRCC's website: "The Collision Repair and Refinishing Program prepares individuals to apply technical knowledge and skills to repair, reconstruct and finish automobile bodies, fenders, and external features. Topics include instruction in structure analysis, damage repair, non-structural analysis, mechanical and electrical components, plastics and adhesives, painting and refinishing techniques, and damage analysis and estimating… Graduates of this pathway should be prepared to take professional licensure exams, which correspond to certain programs of study, and to enter careers as entry-level technicians in the transportation industry."
Students in BRCC's collision repair program are trained using I-CAR curriculum and graduate with all the coursework necessary to become Pro Level 1 certified. "Their education gives them a definitive advantage, a leg up, when they're ready to enter the workforce," Shook explained. "The employer doesn't have to cover the expense of that coursework, so it's a win-win for the student and the shop that hires them."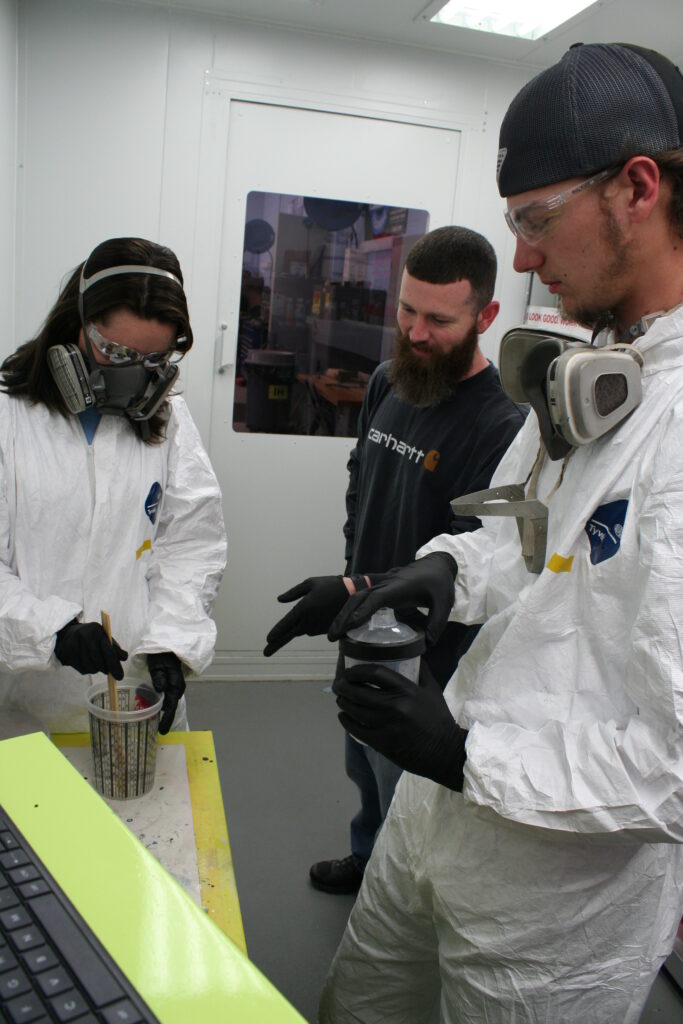 LaFave added, "Producing certified entry-level techs with certifications has generated very positive feedback from the students and employers alike. Our students train on new equipment like they'll see in modern collision repair facilities, and employees enjoy knowing they won't have to spend money to bring their new tech up to speed when they're a BRCC graduate."
As BRCC's collision repair instructor, LaFave has continued his own training through I-CAR as well, and the school is proud that he acquired the I-CAR Pro Level 2 Educated certification which allows the school to "certify our students so we can get them to the level shops will demand from them," LaFave said.
BRCC has been awarded the grant from ARC, effective April 1 and has begun the acquisition process. "We're looking forward to obtaining the equipment we need to continue making our program better," Shook stated. "We've received input from the Western NC I-CAR Committee and our local industry to help drive our decisions about what equipment we need to keep current with industry standards."
"Most importantly," Shook continued, "we'll be able to address aluminum repairs which will be key moving forward in the collision repair industry, as local manufacturers are using more and more aluminum body components. We hope to have everything in place to hit the ground running by Fall 2020."
Addressing the importance of industry professionals supporting their local schools' collision repair education programs, Shook said, "There's a need in all skilled trades areas, but collision repair is very much in need. The average collision repair technician is around 50 years old – most of these guys are getting close to aging out, so we need to provide a top line of new talent to enter the industry while also supporting those already working in shops."
BRCC is working to develop a collision apprenticeship program in the next year to further enhance students' educational opportunities and improve the entry-level techs they graduate.
Shook added, "We really want to thank I-CAR for their support of our college and our collision repair program. I-CAR has been a huge support of our program, especially our local committee as well as Tom McFinch [Principal, Business Development Southeast Region for I-CAR]."
McFinch expressed, "I hope that Blue Ridge's story is something that will encourage other schools to apply for grants to assist their programs and inspire shops around the country to get involved with their local schools. By working together, we can create a better learning environment and produce more well-trained employees to replenish the industry's demands."
Shook concluded, "At BRCC, we are looking to do great things for our students and for the industry, and we can't wait to see both continue to grow!"
For more information about Blue Ridge Community College and its collision repair program, visit blueridge.edu.