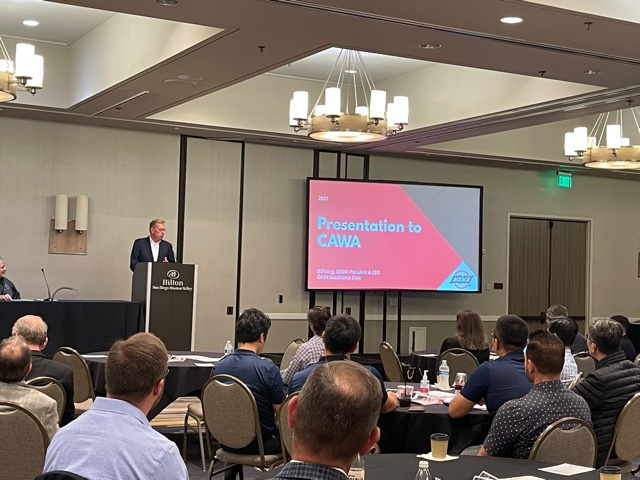 CAWA Members Gather for Live Leadership Days in June
For the first time since February 2020, members of the California Automotive Wholesalers' Association (CAWA) met in-person on June 24-25 at the Hilton San Diego Mission Valley in San Diego, Calif. for two days of leadership training during the association's Summer Educational Forum. "A large turnout came to CAWA's June Leadership Meetings, which included contemporary presentations on industry issues, business meetings and a night at the zoo!" according to CAWA President and CEO Rodney Pierini. "The event received positive evaluations from attendees. It was a huge success!"
CAWA's General Session included "contemporary and valuable presentations," beginning with "The Road Ahead: Automotive Aftermarket Risks and Opportunities," presented by Bill Long of MEMA, and followed by IHS Markit's Todd Campau discussed "Navigating Opportunities in the New Aftermarket Normal. Michael Rukov of RepWorks Marketing moderated a distributor panel, "How to Get My Business," and panelists included Ashlee Arnold of Arnold Oil Company; Dan Hanson Jr. of Hanson Distributing Company; Mike Mohler of The Automotive Parts Services Group and Shao Dyi of City Auto Supply.
At the leadership meeting, CAWA elected Wayne Schaack of the Pronto Automotive Distribution Network as the 2022 Secretary to the Board of Directors. Upon his election, Schaack said, "I believe that CAWA is a wonderful organization and benefits the aftermarket in many ways. Given the changes that are taking place every day in the aftermarket, I think CAWA has done a wonderful job facilitating discussions within the Industry and working on solutions. I look forward to serving, as an officer, to the Board of Directors and will do so in the best of my ability."
"Mr. Schaack has over 42 years' experience in the automotive aftermarket. For the past 10 years he has held the position of Director of Product for the Automotive Distribution Network, now The Pronto Automotive Distribution Network," Pierini noted. "Other officers for the 2022 year will be: Chair Michael Rukov of RepWorks Marketing; Vice-Chair Young Suhr, Jr. of APW-Knox Seeman Warehouse; Treasurer Tom Ogaz of the Parts Authority; and Immediate Past Chair Mike Mohler of the Automotive Parts Services Group."
During the event, CAWA and Mando also co-hosted a YANG Regional Meet-up, which was "a well-attended networking opportunity that everybody enjoyed," Pierini said. "The Association is grateful to those who attended and CAWA will look forward to seeing everyone at the annual gala dinner on Sunday, October 31st in conjunction with this year's AAPEX at the Venetian hotel in Las Vegas."
CAWA's next leadership meeting is scheduled for February 10-11, 2022 at the Silverado Resort & Spa in Napa, Calif. For more information on CAWA and its future events, visit cawa.org.