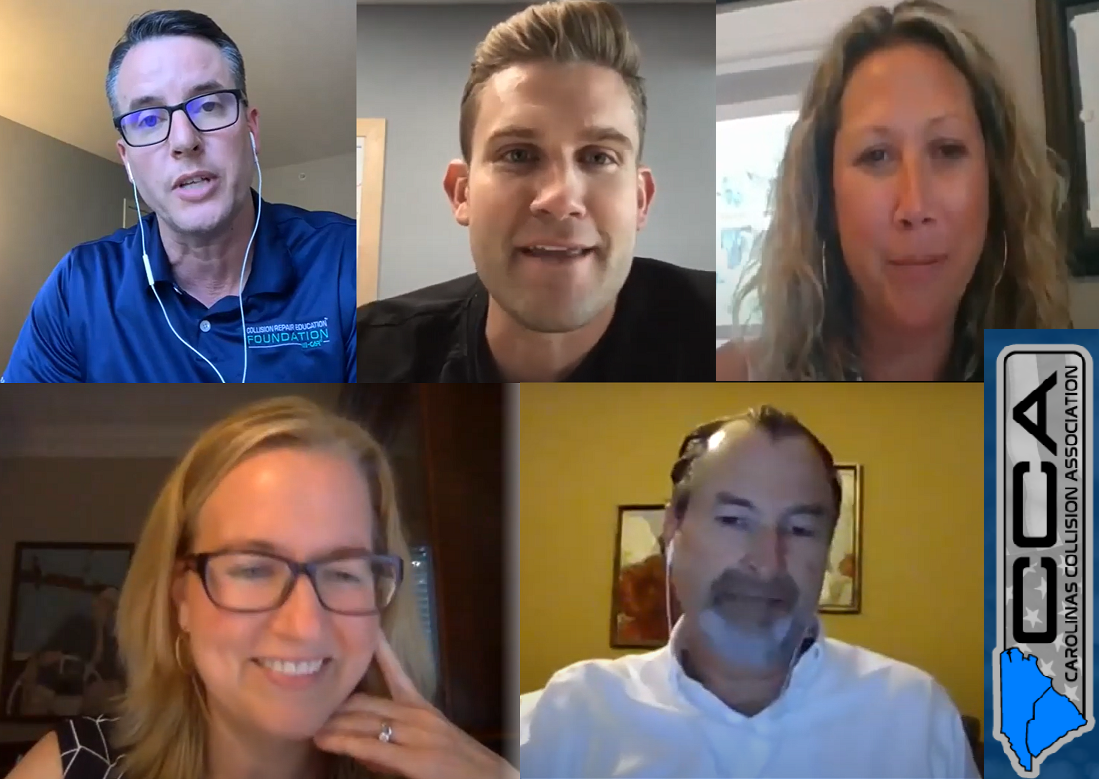 CCA, TCRA & MSCRA's Joint Quarterly Meeting Focused on Collision Students with Presenters from CREF, ASE, WrenchWay, and More
On June 17th, the Carolinas Collision Association (CCA) hosted its last virtual quarterly meeting, welcoming members of the Mississippi Collision Repair Association (MSCRA) and the Tennessee Collision Repairers Association (TCRA). The meeting featured guest speakers from several segments of the industry. According to Josh Kent, executive director of CCA, MSCRA and TCRA, "Our combined quarterly meeting attracted 50 virtual attendees, and overall, the meeting was good. It was really insightful and provided attendees with a reality check with regards to what's going on with tech schools and why shops need to get involved."
The first guest speaker of the joint quarterly meeting was Brett Steele from Podium. Steele acknowledged that the six-year-old company began with the objective of helping shops generate more online reviews, before launching into an explanation of "how Podium can help with your entire customer journey." Podium serves over 900,000 businesses in various industries, manages 14 million interactions monthly, and has connected 1/3 of U.S. cell phone owners to businesses through Podium. Noting that "technology has shifted consumers' expectations," Steele stated, "We have to continue to adapt to this challenge. I want you to think about different points in the customer journey and how you interact with the customer. Our whole goal at Podium is to help businesses reduce friction and improve their communication at every touchpoint with the customer."
Steele explained that consumer research begins online, and customers choose a body shop based on its online reputation. Communication options are also important. "People want to text message; however, businesses fall short," according to Steele. "Shops don't have tools to make it easy for your staff. But two-thirds of your customers prefer to text, and not just text updates. They want easy two-way communication from pre-purchase, to during the process, and then afterwards. We give you a texting line, and in most cases, we can make it the same number as your existing number and can also give customers an option to text you from their website."
Kent next introduced George Arrants of ASE Education Foundation and Brandon Eckenrode from the Collision Repair Education Foundation (CREF), who "talked about the issues surrounding technicians with regards to young people," Kent recalled. They discussed shops not getting involved in the schools' collision repair programs and also how shops aren't keeping current technicians engaged to stay in this industry."
Jumping into the sphere of collision education, Arrants began by claiming, "We have a pipeline of young people interested in our career fair or your career fair. Now mind you: there are some organizations out there telling you that this generation doesn't want to work with their hands, but that's inaccurate. We have young people and veterans interested in our industry, but for some reason or another, a high percentage of them are not completing their collision program, and from that point, we're losing those who complete the program in the transition from education to industry. According to a survey [ASE] did three years ago, we're losing 42% in the first two years. We just completed a revised survey a few weeks ago, and it's still at 41%, so not much change there."
Although 41% of entry-level collision repair professionals leave the industry, 18% of them go to work in other trades. "So, it's not like they're not working with their hands; they're just not working with us," Arrants pointed out, adding, "30% of the students said they did not pursue a career in our industry because they did not see a career pathway. That's our fault. That's 100% our fault as business and industry."
In 2020, the team at S/P2 noted a 1.9% increase in automotive students and a 2.1% increase in medium/heavy duty truck programs, according to Arrants, but there was a 36% drop in collision student enrollment. "Folks, the kids are interested," he said. "And at the schools where the kids aren't, it's because the industry isn't involved to show them what's going on […] Those schools that are not teaching what you need is truly a waste of student time. If the industry is not involved, that program will close, and nobody will ever even know they're there. You've got to be willing to fight for what you already have in your community."
Moving on to what the industry is doing to promote education among young people, Arrants introduced Eckenrode who shared CREF's goal to support high school and college collision school programs, students and instructors around the country by providing tools, equipment and consumables to classrooms, helping refresh the schools' shops to ensure students have professional learning environments, and providing students with brand-new uniform to combat the "dirty car guy" stereotype. The Foundation also hosts career fairs, collects and shares student resumes with the collision industry, and awards student scholarships through various industry sponsors.
Eckenrode offered a sneak peek of an upcoming initiative, noting, "In the not-so-distant future, you'll see a public service campaign on behalf of the collision industry, basically promoting the industry because, what I say is, we're in a trade war with a lot of the technical trades. We're all looking for the same people, so we have to do what we can to make sure we're attracting the best and not just getting the leftovers who've tried the other programs and just see collision as a dumping ground."
Urging attendees to get involved with their local collision education programs, Arrants pointed out, "If you're not involved in those programs, you're not making your voice heard. It's your own fault. You need to let the administrators hear from you about the career opportunities in the industry but also about what these programs need to be successful. We have a national concern with a local solution, and that solution is basically just getting involved. And if you're not involved, you're a part of the problem."
Eckenrode chimed in: "Sometimes, I hear stories from shops about how they tried hiring a student from their local school five years ago, but it was a disaster… I understand and respect that, but what have you done to go in and try to change the quality of the students coming out of those schools? They often tell me they don' have time for that, but the Foundation has a full-time staff of only four so there's only so much we can do on a national level. It's about getting involved with your local schools.
Referencing groups that are involved with CREF, such as the Montana Collision Repair Association, Eckenrode explained that the Foundation works with local I-CAR committees and collision repair associations to ensure that funds raised are only reinvested back into the schools in that market. He and Arrants urged the industry to join their local advisory committees and show their support for these students.
Shops cannot expect a young person right out of tech school to be productive on their first day, and stressing that mentorship is vital to grow new technicians' skillsets, Arrants briefly discussed ASE's Adopt-a-School program, which encourages collision industry professionals to get involved with local tech school students. He also suggested shop owners should also evaluate whether they have the right shop environment to attract young people. "This is our industry's future generation. They chose to take one or more collision programs in high school or community college, which means they invested in us – we need to make the same investment in them and try to guide them and seal these links in the pipeline. [Collision repair professionals] can't stay on the sidelines forever. Those of us who are trying to help, we're trying to help YOU."
Kent introduced WrenchWay's Christen Battaglia, and she provided an overview and demonstration of School Connect, which is part of WrenchWay's continued efforts to connect industry employers, technicians, and the schools training the industry's future technicians. "Schools don't always ask for help, and the industry doesn't know what they need," she noted. "WrenchWay School Connect is a free tool that makes it easier for schools to connect with local shops and dealerships. In this way, industry professionals can help provide the resources schools need to attract students to their tech programs and ensure they receive a great education, so they are ready to enter the industry after they graduate. Schools get the support they need, and the shops benefit by getting involved to build a stronger industry – and it's free, so why wouldn't anyone want to participate?"
Battaglia also reviewed Top Shops, WrenchWay's only paid product, as well as its only public-facing one. "It's a tool that shops can use to enhance their current recruitment efforts. A lot of our Top Shops post a link to their WrenchWay profile in their job postings. The shop profiles provide useful information that allow technicians to research a shop before an interview. Transparency is important for techs, so we ask a lot of basic questions that may be relevant to their decision whether or not to work for a shop. We ask about everything from the tools used and the size of the team, to what kind of music plays in the shop and who controls it. Shops need to be super transparent to attract and keep technicians. Let's show them what our shops are all about upfront before they apply. WrenchWay is bridging the gap between employers, technicians, and schools."
"I think this is a great platform," Kent contributed. "Obviously, the more schools we get on the program will help this portion of it really shine. I have shops ask all the time how to look for technicians. To me, this is a great resource; it's very thorough."
"I'm excited about all this information about how to get kids involved in the industry, but if we don't help them grow these programs, we can't reach more people. And that's something a lot of shops are yearning for, but like many of us, they haven't gotten involved because they didn't know how. If we don't get involved now that we have the information, shame on us!" MSCRA President Tracy Lewis said.
Next, Margaret Palango and Tony Mercury of Autoshop Solutions shared "Really Powerful Marketing" tips. After Palango mentioned the organization's involvement with promoting the industry to students through the TechForce Foundation and the North Carolina Apprentice Program, Mercury provided some background on the company and stressed that collision shops should build their online presence by having a strong website, being active on social media, and interacting with customers to build trust and loyalty.
Mercury explained the four pillars of internet marketing: website, pay-per-click, social media, and SEO, and stated, "Our goal as a marketing agenda is to make sure you're getting found everywhere, essentially at the same time, and I don't care where they call you from; I just want them to call you."
Lastly, Kent introduced the final guest speaker during the event, I-CAR'S Tom Mcfinch. He shared, "My role at I-CAR is to really help you influence those young people to come into industry and start working in the shops. My passion is helping the CTE schools get a better product out of that school, so when that student comes to your shop, they understand what to look for going ahead. Getting involved allows you to spend time with the students and give them that real-world experience they're not going to get from their instructor who has been removed from the industry for several years in a lot of cases."
McFinch talks to the students about "all the things that matter to you, as a shop owner, so the students know what they can expect." He shares insights based on his experience related to the importance of respect, tooling requirements and etiquette, and even the fact that they ARE going to make mistakes early in their career. "At that school level, they're not exposed as much as they are when they get into a shop environment. It's important that they provide value to their employer, and they can't do that unless they pick the right shop. And there's a lot they bring to your shop environment that you don't necessarily have currently, especially relating to updated technology."
Offering to be shops' "partner in helping with your shop environment and helping you develop your community from a school standpoint," McFinch urged attendees to get involved with their local I-CAR committees to support tech schools in their markets. "We want to get students in your shop, fixing cars, because we know we have an issue. We've got to help CREF and ASE. We've all got to work together so that we can get those students coming in, and we can make a difference in these kids' lives," he said. "If you're willing to take your time to participate in your local collision repair association or I-CAR committee, that shows me that you have an interest in your community and in your business, and you're willing to expand on what you're doing to make the entire community better, really establishing what your community's going to look like in the future."
During the meeting, CCA President Kyle Bradshaw addressed attendees, encouraging them to "spread the word about CCA so we can continue to grow our membership. Our strength is in numbers, and the more people we have involved, the better our association is going to be. If you're a member, don't keep it a secret."
TCRA President JMark Smith agreed with the value of association membership: "You'll get more great ideas than you can imagine!"
CCA, MSCRA and TCRA plan to welcome Collision Hub for a virtual estimating training session on August 19, according to Kent. TCRA's next in-person event will be held in Nashville, TN on September 16, featuring Dave Luehr, and MSCRA's next meeting is planned for September 23 with guest speaker, Mark Olson. CCA will meet again on October 21 at Autotality in Mooresville, NC. CCA is also looking forward to its Southeast Collision Conference, scheduled February 3-5, 2022, at the Gateway Conference Center in Richburg, SC.