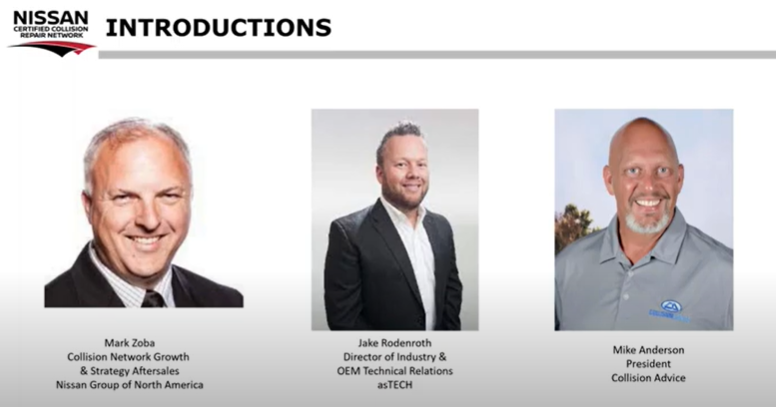 Nissan Chalk Talk Featuring Mike Anderson and Jake Rodenroth: DTCs, ADAS, and OEM Repair Procedures for Certified Collision Repair Shops
During "Nissan Chalk Talk" on June 9th, Mike Anderson, president of Collision Advice and Jake Rodenroth, Director of Industry and OEM Technical Relationships for asTech, broadcast live from the asTech Training Center in Jacksonville, Florida. They were joined by Mark Zoba, Collision Network Growth and Strategy Aftersales at Nissan Group of North America, as they discussed why DTCS alone aren't sufficient to diagnose a Nissan or Infiniti and how additional data may be required from ADAS systems to determine the issues that exist.
Zoba began by acknowledging, "We know our vehicles are more and more technologically advanced, and we need to make sure our shops have what it takes to fix the vehicles correctly is essential, essential for our brand, essential for the consumer as well."
Discussing the emphasis Nissan places on its certified network quality repairs, Zoba dove into the five pillars of such a repair: the right tools and equipment, vehicle scans, following OE repair procedures, quality parts, and highly trained, qualified professionals who perform the repair. "The five pillars become a seamless collision repair experience for the consumer that alleviates stress, inspires trust, and instills confidence," Zoba stated, adding that this can "only found through a certified network shop."
Focusing on the scanning pillar, Zoba examined Nissan/Infiniti's position statement in terms of what is required and recommended. Post-repair diagnostic scans are required on any Nissan or Infiniti vehicle that is 2008 model year or newer; they are recommended on older vehicles. Pre-repair scan are "strongly" recommended on ALL vehicles. Nissan/Infiniti has approved specific tools for these scans, limited to the CONSULT OEM scan tool, Nissan/Infiniti OEM scan software with OEM VI2-C or greater, and the asTech remote diagnostic device, connected to CONSULT.
Anderson and Rodenroth then took over to discuss the differences between collision repair diagnostics and mechanical diagnostics, explaining why aftermarket scan tools are more effective in the mechanical space than in the collision repair industry. Anderson noted, "When somebody goes to a mechanical shop, they're going because they have a specific concern or problem. Then, that mechanical shop determines the cause of the concern, and they correct it. Now for us, we get a wrecked vehicle in and we have to figure out what's going on. Collision repairers need to use a factory scan tool to figure out what's working and not working before we disassemble the vehicle."
Rodenroth added, "All collisions are inheritably different, and there is nothing routine about each vehicle repair. The collision side also sees the newest vehicles in the worst shape, and access to all vehicle control modules and features is critical to a safe and proper repair."
Addressing the Nissan Central Gateway, which Anderson called "the number one reason why aftermarket scan tools will NOT work on these vehicles," Rodenroth explained, "Central Gateway is the digital padlock on the vehicle. Understand that this padlock is actually in the vehicle, not the scan tool." Anderson elaborated, "This is like a firewall that keeps somebody from hacking the vehicle, so even when you hook up a factory scan tool, you can't get past this firewall until you log in with your user name and password on your console. So, when you hook up an aftermarket scan tool, it doesn't have a username and password to get past the security."
Rodenroth hooked up the CONSULT-III Plus and demonstrated to attendees how to use the Nissan Central Gateway to examine the DTCs related to the fault codes that populate on the scan tool. He showed a vehicle set up for a lane departure calibration, per the specifications outlined in TechInfo. Then, Anderson explained that all scans and calibrations must be clearly documented, including photos, to ensure that auto body shops are properly compensated by insurers. He also stressed the importance of performing an audit on scans and calibrations when they are sublet. The dynamic duo explored several DTCs and how to research the repairs needed.
While the 2019 Nissan Sentra didn't have a secure gateway, the 2020 model includes that firewall. Since June 2020, asTech scans have been performed on 1,113 2020-model year Nissan Sentras and 653 2021-model year Sentras. "Use the new Central Gateway," Rodenroth urged. "It protects the in-vehicle network against unauthorized access and essentially acts like a firewall on your computer."
Regarding diagnosis without DTCs, Rodenroth dove into specific examples related to the Nissan front radar and the around view monitor, stressing that every car needs to be pre-measured. As he emphasized the importance of researching procedures in TechInfo, Rodenroth looked at service information from a third-party provider, indicating that the target needs to be 2,388 mm away. He then accessed the same procedure in TechInfo, which indicated a distance of 3,000 mm is needed.
Anderson explained that changes were made in TechInfo in April 2021, yet "the third-party provider doesn't have the accurate information; they haven't made the correction. That's a concern, right? If you're using a third-party solution to look up your OEM repair procedures, I challenge you to pull up the information on this 2020 Nissan Titan and see if it says 3,000, or does it say 2,388. Then you'll know if that third-party solution is updating their information in real-time." Shops should get into the habit of checking for new service bulletins in TechInfo, according to Anderson. He encouraged them to contact TechInfo's support team if they notice an inaccurate procedure.
Asking attendees if they have removed a Nissan steering column to measure it and perform the seven configurations that are required, Anderson and Rodenroth examined the Infiniti DAST and the procedures that are required. "Are you doing these procedures?" Anderson asked, and Rodenroth added, "The technology is changing quickly, and we want you to keep up."
Looking at the 2018 Nissan Altima Owner's manual tire replacement requirements, Anderson encouraged collision repair professionals to review the owner's manual with the customer. The presentation concluded with a review of future Nissan vehicles and upcoming features, such as having 10 airbags standard and the all-new 2022 Pathfinder ProPILOT Assist with Navi-link. The 2022 Frontier boasts intelligent an around view monitor with off-road mode and the Nissan Safety Shield® 360, and the 2022 Ariya will have over 30 control modules that are capable of software updates.
During the webinar, Anderson and Rodenroth invited Nissan certified shops to register for their two-day, hands-on scanning and ADAS calibrations course. Several course dates are available, and more information can be found at CRNtraining.com. A replay of the webinar is available on YouTube.