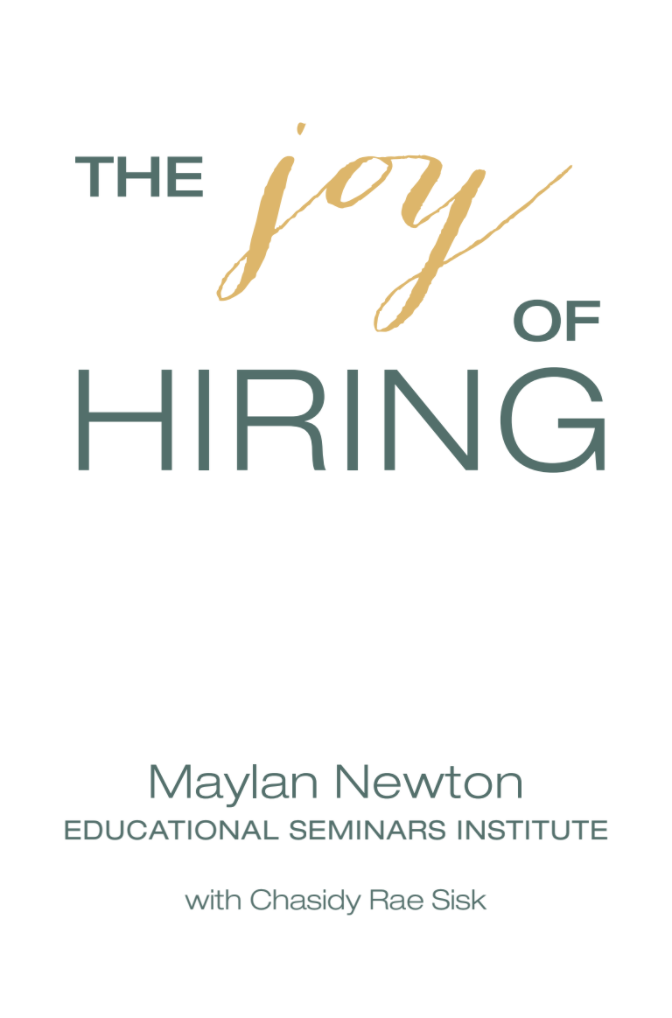 Discover The Joy of Hiring with Maylan Newton of ESi
A technician or service writer suddenly quits, and it seems like the end of the world as you're left scrambling for a replacement. Finding a qualified candidate and conducting interviews may seem like a nightmare, but rather than hiding from this task, discover The Joy of Hiring, written by Maylan Newton with Chasidy Rae Sisk.
Although hiring is hard, developing a consistent hiring process helps small business owners identify employees with the skills to enhance and advance their business. In The Joy of Hiring, Newton guides readers through the hiring process – from the documents required to the questions that should be avoided… and everything in between. By establishing a consistent process, shop owners will improve their hiring skills, allowing them to keep their sanity while building a team who will contribute to the shop's success.
With over 45 years of professional automotive and business experience, Newton has literally "been there and done that." After working as a technician, service advisor, and manager, he began sharing his experience and knowledge as a business coach for Educational Seminars Institute (ESi), becoming one of the best-known automotive industry trainers and speakers in the United States. As president and CEO of ESi for the past 30 years, Newton combines real-world experience with profit building take-aways in a humorous and engaging manner that only he can deliver. He has adopted an attitude of servitude, traveling the country to educate shop owners on the key business practices used by today's most successful auto repair shops.
"People think I'm twisted because I enjoy talking to and helping everybody. Most of us don't like dealing with people, which is why so many shop owners struggle when it comes to hiring, but you don't have to struggle!" said Newton. "When you turn hiring into a scientific process, it becomes easier, and you get better at it. Your employees are your most valuable asset, and everything that brings value to your company demands an investment – by investing your time and energy into establishing a consistent process, you'll gain confidence in your ability to produce predictable results with each interview."
While the advice in The Joy of Hiring focuses on the automotive repair industry, Newton's method can easily be adapted to serve the needs of any business looking to establish a hiring process. The Joy of Hiring is available for purchase on Amazon.com or at JoyOfHiring.com.
The Joy of Auto Repair, Newton's upcoming full-length book, will be available for sale by Fall 2022. Any automotive repair shop can be successful – with the right guidance! Leveraging several decades' worth of automotive business wisdom, Newton's The Joy of Auto Repair provides motivation and guidance for automotive repairers eager to do their best for customers, their shops, and the industry as a whole.
Newton will be presenting a seminar about "Influence!" and "How to Survive, no, THRIVE in Times of Crisis" during ATRA's Power Expo 2021 on October 15th in Las Vegas, Nevada. He'll return to Las Vegas on November 4th to present "Excellence is a Habit" during AAPEX 2021. To book Maylan Newton for a speaking engagement, email [email protected]
###
Maylan Newton, Chief Influence Officer at ESi, brings over four decades of real-world knowledge, expertise, and experience to automotive repair businesses nationwide through his educational seminars and his coaching services. You can reach him at [email protected]
ESi has been helping businesses succeed by offering "Independent Solutions for Individual Needs," without any contracts, since 1984. Independent automotive repair shops around the country have learned to generate more profit with less hassle through ESi's Professional Business Development training series, In-Shop Training Support program, Personalized Coaching, and the Service Writer's School of America, all taught by automotive professionals with 20+ years of industry experience. For more information, visit esiseminars.com or call 866-526-3039.
Possessing over 15 years of professional writing and editing experience, Chasidy Rae Sisk has written almost exclusively for the automotive and collision repair industries for the past decade, producing content and copywritten materials for a variety of forums. For more information, visit AutobodyWriter.com.