MO Shop Owner Educates, Empowers With Wheels, Women & Wine Car Care Clinic
Friday, 13 July 2018 20:05
Featured in AUTOBODYNEWS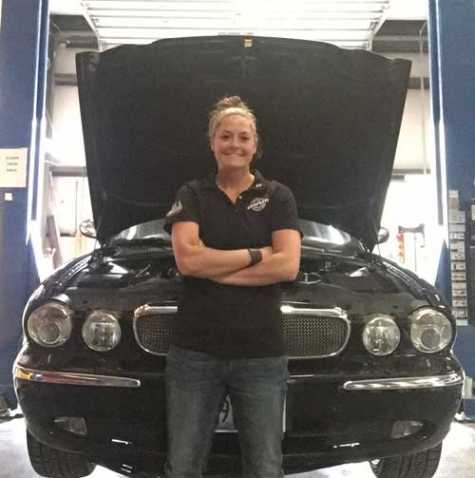 "I've often heard technicians say women don't belong in a shop—what does that mean? Just do your job, and she'll do hers!" stated Kim Barks, who co-ownsComplete Car and RV Repair in St. Charles, MO, with her father, Bob.
In May, Barks hosted her first Wheels, Women and Wine Car Care Clinic at the shop in an effort to educate and empower women in their community when dealing with their vehicles.

The class attracted 35 ladies, some of whom brought their daughters, inspiring Barks to teach both the current and future generations. She put a car on a lift to show the group how it works, and then talked about the auto body side of the business, including what to do in an accident and how an estimate is written. During the informative class, attendees enjoyed wine and snacks.

Barks said, "It was a really nice event, and more people came than I expected. Everyone seemed really excited and eager to learn. The ladies asked a lot of questions, which is great because that means they felt comfortable and in a safe place. I've wanted to educate women about their vehicles for years, and Dad has always encouraged it. Women are often the buyers in a family, so shouldn't they know something about such a major purchase?"

Although women outside the industry are often intimidated by the idea of learning about their cars, Barks encouraged them to ask their repair shops to show them what's being done and explain why it is needed.

"It's their investment, and they should know how it works. Being educated can save money and prevent problems," she said. "It's about keeping families safe—vehicles can be dangerous, so familiarizing yourself will allow you to know if anything looks, sounds or acts out of the ordinary. There are so many tools and resources available; it's a shame how few people take advantage of them."

Barks was raised in the automotive industry, but she realizes that many women who may consider an automotive career can struggle to gain an opportunity to enter the industry.
"I encourage women to go to ASE to get an automotive education if they're interested, but I'm not trying to turn anyone into a mechanic through my clinic," she said. "I just want to educate them with some hands-on training and give them a chance to socialize with other women in a car-oriented environment so they see that it's not something to be afraid of.

"I think the Car Care Clinic is a great way for women to build confidence and learn that cars are fun! Women are typically quieter around men, but we need to change that to reshape our society. I've been around men my whole life, so if you set boundaries and build a relationship with them, they stop seeing you as [just] a woman and realize you're just here to do a job, same as them."

Barks will host her second Wheels, Women and Wine Car Care Clinic on Sept. 15 at 9 a.m. and is seeking sponsors to help her educate and empower local women.

For more information, contact Kim Barks at 636-724-2232 or [email protected]