NORTHEAST Collision P.R.E.P. Kicks Off with Mark Olson's Bulletproof File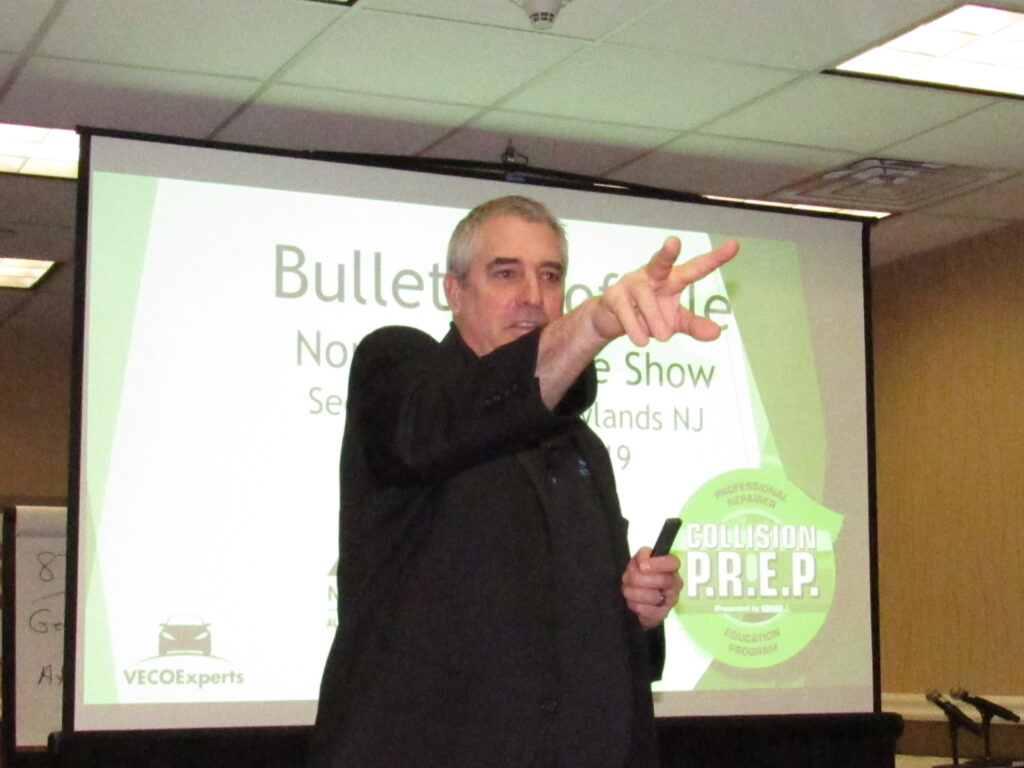 This year's Collision P.R.E.P. program commenced on August 6th with "Documenting for Repair Process and Liability, and Building a Bulletproof File," presented by Mark Olson of VECO Experts. Hosted by the Washington Metropolitan Auto Body Association (WMABA), Collision P.R.E.P. is the educational portion of AASP/NJ's Virtual 2020 NORTHEAST Automotive Services Show.
"There's a much bigger picture than what you're probably already doing in your shop," Olson began. "You've got to get it right the first time. You don't have a second chance to get the right information. As soon as the car enters your shop, you need to start taking pictures of the vehicle and the condition it's in – once you tear it down, you won't be able to do this. Pictures are cheap and easy, so there's no excuse for not taking tons of pictures, even if you don't need all of them."
Looking at a Nissan Sentra with scratches on the left rear side of the bumper cover, Olson pointed at the Nissan position statement which dictates the part must be replaced with OEM parts. Asking attendees if they think collision repair is getting more difficult than in the past and how many support legislation for OEM procedures being made into law, Olson noted, "Collision repair has never been easier. It has changed and gotten easier, but be careful what you wish for legislatively. You don't want this to be a law – if you repair that bumper instead of replacing it, you've broken the law and are subject to criminal penalties."
After stressing the importance of proper OEM repairs, Olson shared VECO Experts' 10-step Repair process. "If you follow those 10 things on every vehicle every time, you'll have a predictable outcome in your facility, but most shops are only doing 40% of that right," Olson said, adding, "You are going to get shot at. Can your shop withstand it? Are your files bulletproof?"
At some point, all shops experience an issue with a vehicle, and what is said and done next can have a huge impact on the outcome. Olson advised shops owners to pull the file before trying to answer anything from memory and take detailed notes of the customer's complaints, seeking counsel if it's major. The issue should be communicated to a person of power, who is able to make financial decisions, and then, "If you can easily resolve the issue with a re-repair, do it. Even if you think you're okay, many shops that try to deny small problems cause the customer to hire experts who will find much larger concerns. When this happens, there is a 99% chance that buying the vehicle will be your best option," according to Olson.
To build a bulletproof file, shops must keep detailed records, including an authorization form, authorization to scan if required, and a vehicle check-in report at a minimum. "Forms are very important, but no form is going to fit your shop perfectly, so find a form that is close to meeting your needs and modify it, engaging an attorney if needed," Olson suggested. "Make sure your forms are fully completed; if you don't use a part of the form, revise it, because an incomplete form will work against you in court."
All adjusters, inspectors and customers who enter the shop need to sign a release and comply with PPE requirements, and shops must keep an accurate running log of all notes, including the date/time and the name of the individual logging the entry. Techs should be discouraged from using their personal devices to enter these notes, since their device could be subpoenaed in a trial.
Taking photos of everything is vital to building a bulletproof file, beginning with intake and proceeding through each step of the repair process until the vehicle is ready for delivery. "Use all available resources to document the entire process; take pictures of everything!" Olson said, "The biggest problem you're going to have when you start documenting everything, as you should, is making sure that you're documenting everything the way it should be – your file can prove that you're doing it wrong too, so make sure you're doing it right. Else, your file becomes the bullet instead of being bulletproof."
Product documentation is also a crucial component to strengthening a file. Anything specified by the OEM should be documented using photo evidence, and a copy of the paint mixing label should be included in the file. It's also important to note that adhesives and urethanes have expiration dates so including proof that they weren't expired at the time of use is beneficial.
When it comes to quality control forms and systems, Olson urged, "Do not make it too complicated; keep it simple. QC can involve a stage check or a peer review. We recommend doing it by stage or grouping, but there are many possible variations to the process, so you need to customize it to your shop."
Using an effective documentation system allows shop owners and managers to "ensure technicians are in fact following OEM repair procedures through photos and documentation providing proof of compliance, and confirm technicians are pre-scanning and post-scanning every vehicle with the ability to store valuable diagnostics," Olson stated. "You can also audit submissions by repair, line item, or labor category, and approve or reassign based on the results. Finally, some programs, such as the Assured Performance Network, allow you to document and print a data-driven Certificate of Authenticity for technicians that used OEM Repair Procedures on 100% of the applicable line items during the repair. We highly encourage shops to use a program that offers this feature."
"No matter how you fixed the car, it must be documented that way," Olson added. "If you use a price matching program, the final repair order that the customer receives, which you keep in your final file, must say it is OEM. If there are customary charges that you charge customers, and choose not to charge it for whatever reason, simply put in a zero or something indicating you did it and didn't charge for it. This goes for ALL not-included items, such as test drives, seat belt, safety checks, vehicle washing, and more. All lines on the estimate reflect the repair done to the car. If it is not listed, it did not happen."
Quoting Rex Dunn, Olson said, "'The only difference between two repairs is what you choose to do for free – there is only one way to repair a vehicle,' the way the OEM says. If something goes wrong with the repair and the customer calls in someone like me, Mike Anderson, Kristen Felder or Larry Montanez, the first thing we'll ask for is your file, which is all we should need to know everything that took place on that vehicle. Your file is your best defense in any legal situation, but if it's incomplete, you'll likely lose in a legal battle, and that could cost you a lot of money, your business, your assets and your mental health."
Regarding data storage, Olson discouraged shops from using estimating systems as the only source for storing files since access to that data may be lost if management systems are changed. It's also key to know how long the data is stored. "You need a place to store your data that is yours and yours alone."
After briefly touching on third party agreements and garage keepers' insurance, Olson summed up the basic file elements to have documented:
All communications, internal and external.
All repairs documented following OEM – photos and documents.
Quality control forms, intake, pre-delivery and authorizations fully signed.
All blanks on forms filled out or N/A on them.
A checklist of all file items to do a final quality check of file before closing file for storage.
All photos taken of all stages.
In closing, Olson shared, "There's a lot here, and it takes a lot to sink in because it requires a culture shift. This is what VECO does – help you set processes – but the reality is that you don't need me to do it; it just has to be done. Take baby steps by implementing one or two things at a time. It only takes one problem to put you out of business and destroy everything you've worked so hard for!"
For more information on VECO Experts, visit http://vecoexperts.com/.
The 2020 NORTHEAST Trade Show will be held virtually on August 21-23 virtually. Using a dedicated link on the event website (aaspnjnortheast.com), registered attendees will enter their email address and be able to visit exhibitors' virtual "booths" online, where they can view product information and videos and schedule virtual meetings with vendors. The show hours will mirror the original schedule: 5 to 10 p.m. Friday, Aug. 21; 10 a.m. to 5 p.m. Saturday, Aug. 22; and 10 a.m. to 3 p.m. Sunday, Aug. 23.
The next Collision P.R.E.P course will be available on August 27 and will feature John Shoemaker of BASF as he presents "Positioning Your Business for Sustainability Among Constant Change." Additional courses are scheduled for September 30 and October 22. For more information on the educational opportunities available, or to register, visit wmaba.com/collisionprep/.