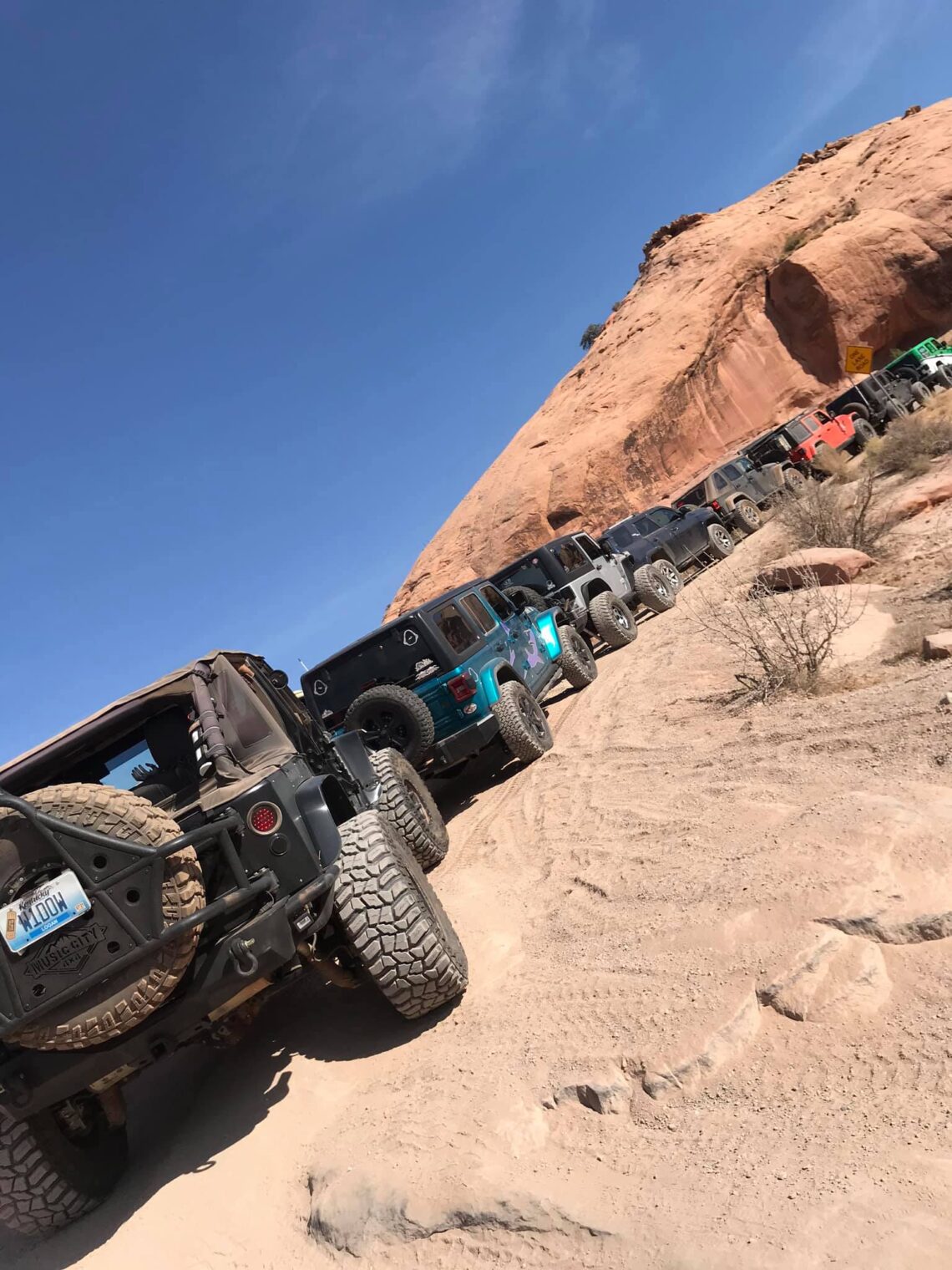 The Machine Behind the Women: Drive Safer and Smart by Knowing Your Vehicle's Capabilities
AskPatty CEO, Jody DeVere, recently joined the Ladies Offroad Network (LON) for an off-roading adventure through Moab, Utah's challenging terrain. While most of us think that makes Jody a total badass, she largely credits the experience to ZACC, her 2017 Jeep Renegade Desert Trailhawk.
"In the world of off-roading, ZACC is among the smallest vehicles, but he and I have developed a symbiotic relationship; understanding his capabilities and developing my skills around them enhances the driving experience, both off and on the road," she shares. "Other off-roaders were astonished by some of the things ZACC did, but I wasn't surprised – he's a very capable vehicle."
ZACC graciously agreed to share his perspective of the Moab trip with Jody and LON.
How did you prepare for your trip to Moab?
Jody took me to the shop for a full check-up because she knows it's important that I stay well-maintained to perform at my best. We needed more traction control, so Jody upgraded me to better all-terrain tires with more grip – the right tires are key on the road too, especially when driving in snow, ice or rain.
Shoutout to the BF Goodrich KO2 tires! They made a huge difference; I felt like I'd just got a new set of brakes, and they look darn good on me, if I do say so myself!
Did Jody make any special preparations for the trip?
She watched some videos of other Renegades in similar terrain to assure herself of everything I can do. We were both excited to try my downhill assist, and it worked perfectly. Jody didn't touch the gas or brakes. She just steered me along the best line, and it took so much stress off me and my brakes!
I wish more drivers were like Jody – too many car owners never use their vehicle's full capabilities because they never bother finding out what we can do. It really hurts when we don't get to show our best. We want to make driver safer and easier for you humans!
Were you or Jody afraid on any of the trails?
So here's the thing – those paths were narrow and had steep drop-offs everywhere, so it would have been easy for Jody to allow fear and overthinking to overwhelm her, but she really got to know me and my capabilities before we went off-road together.
She knows what I can do and trusts me to do it; she also understands when I need help directing my abilities and contributes her own skillset to drive. Jody and I are a team – we need each other to go anywhere.
Were there any trails you couldn't handle?
Absolutely not! But I was a little slower on some trails, so Jody got this idea that I couldn't handle it. She put on her mask and got in another vehicle, but I taught her a lesson…
Oh no, ZACC! What did you do?!
Well, Jody thought she was safe leaving me behind, unlocked the key fob in my trunk, but the longer she was gone, the madder I got, so I locked myself, hehe.
Now, I'm not heartless – I know Jody has been a AAA member for over 40 years, and they had me unlocked within 20 minutes. All those other women were laughing at my prank, but I just sat there, looking innocent, and didn't utter a peep.
What did you think about the LON?
Oh man! There was this feisty little red Rubicon and a custom-built Tundra that could go over anything – you should've seen the giant tires on that one!
Thanks for that, but what about the humans?
Oh. They were pretty incredible, too, but they all had masks covering half of their faces and kept their distance from each other like someone was leaking oil.
I tell you, that's a group of ladies who really know what their vehicles can do! They know that they can drive better and safer by understanding their vehicles' capabilities. It was obvious that they respected and admired their cars but still knew their vehicles' limitations.
Did Jody ever push you too hard?
I wouldn't say that exactly, but there were a few times that she had me up on three wheels. Fortunately, my drivetrain software sends power to the correct wheel, allowing me to stabilize and move forward. I love how she relies on my capabilities.
Were you jealous of any of the other vehicles' capabilities?
Surprisingly, yes. A Rubicon had an altimeter that alerted her driver when she went off-camber, when the road wasn't level. Jody was really excited about it and taught other Rubicon drivers who didn't know they had the feature.
Not everyone needs an off-roading vehicle. Is it still important for drivers to know their vehicle's capabilities, and why?
Of course! We cars have a lot of cool ways to make driving less stressful and more enjoyable. Bluetooth and GPS are just the tip of the iceberg – we're now equipped with all kinds of assistive technologies, and it's beneficial for drivers to know how to use things like lane departure assist. It allows you humans to rely on your vehicle and understand what your role is on our journey.
Winter driving can be particularly treacherous, and knowing your vehicle, including its tire capabilities and safety features, is imperative. You also want to be respectful of your own driving skills on icy roads – we're in this together, and neither of us want to get hurt when it could be easily avoided if you understand both your own and your car's abilities.
How can vehicle owners learn about their car's capabilities?
Give your dealership a call. Most offer new owner classes or will schedule an appointment to teach you about your car's features. If you don't like being around people that much (and trust me, I understand, haha), you can consult the owner's manual, most of which are offered on DVD or can be downloaded as an app.
You really want to get to know us better, I promise – we're kind of amazing! Every car wants to have a relationship with their driver like I have with Jody. You can't take advantage of your car's high-tech safety features, like brake and lane departure assist, if you don't know how to use them.
Information about your vehicle's abilities is available, and it's your responsibility to learn what we can do. Once you get to know your car, I urge you to test out your vehicle's capabilities, as long as you're equipped and ready with the appropriate driving skillset.
OK, ZACC, just one more question: how did you get your name?
They named me when they finished building me, but at Jeep, we spell "name" V-I-N.
Thank you, ZACC, for sharing your story!