WIN Holds "Backpack Drive" During Local Networking Event in Denver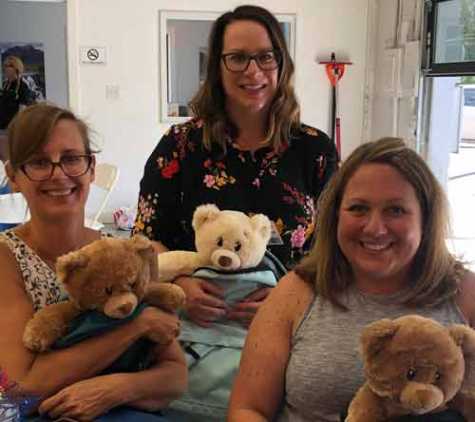 On Aug.17, the Women's Industry Network (WIN) gave back to the community by collecting backpacks and other back to school necessities to benefit Denver Public Schools' ESSA Foster and Military Family program.
The event was hosted by Axiom Accident and Hail Repair in Englewood, CO, whose Director of Customer Experience Kim Frasher sits on WIN's board of directors. Frasher shared, "The event went very smoothly and exceeded all expectations. Once Cheryl [Boswell, WIN chair] mentioned on a board call that we should have a 'backpack drive' type of event in Denver for WIN members and the collision repair industry in general, I got to work planning."
"We wanted to establish an active WIN member base where there wasn't one currently by hosting the first WIN regional event in Denver, while giving back to the community," Frasher continued. "My company was thrilled to host WIN and guests, and we had a beautiful brunch provided. Everyone had a great time! While everyone ate, I discussed the history, purpose and vision of WIN, discussed the membership options, and talked about the annual conference."
WIN members and attending guests wrote notes of encouragement for the coming school year to give to students, and representatives from Denver Public Schools were present to receive the care packages for 100 local foster kids. Frasher said, "Thanks to many generous sponsors from the collision repair industry, we were able to give new backpacks and a gift card for a new pair of shoes to Famous Footwear for 100 foster kids in Denver Public Schools. Build-A-Bear representatives were present, and we were also able to create teddy bears for the kids; attendees really loved this activity."
Frasher added, "The donations from the collision repair community and WIN members made this event a tremendous success. The team from Denver Public Schools was in tears as they were loading the donated items into their cars. Considering all of this was planned in under a month, we had an incredible turnout and have big plans for the Denver market in the coming months!"
WIN's Colorado members are planning a Christmas event to benefit the same children and look forward to hosting another backpack drive for the 2020-21 school year. Frasher intends to distribute WIN scholarship and student membership information during a local career fair at Lincoln Tech in September.
"Due to exposure from this event, we have already welcomed a couple of new WIN members, and everyone is excited to grow our membership base in Colorado," Frasher stated.
WIN as an organization anticipates hosting more local networking events in the future in response to feedback from association members. Frasher expressed, "Regional events are a great way to connect with others in the field, whose goals are aligned with your own. Everyone wants to represent the collision industry well and give back to the communities that support us, and as a result, this helps us all attract the next generation of collision industry workers – potential students. It's well known that there is a skilled worker shortage in the auto collision trades, and by hosting regional events and community outreach projects, we will hopefully not only grow membership for WIN, but inspire the next generation of female collision industry workers to seek a career in our trade, which benefits us all!"
For more information, visit https://thewomensindustrynetwork.site-ym.com/.