NY Shop Reopens After Self-Imposed COVID-19 Shutdown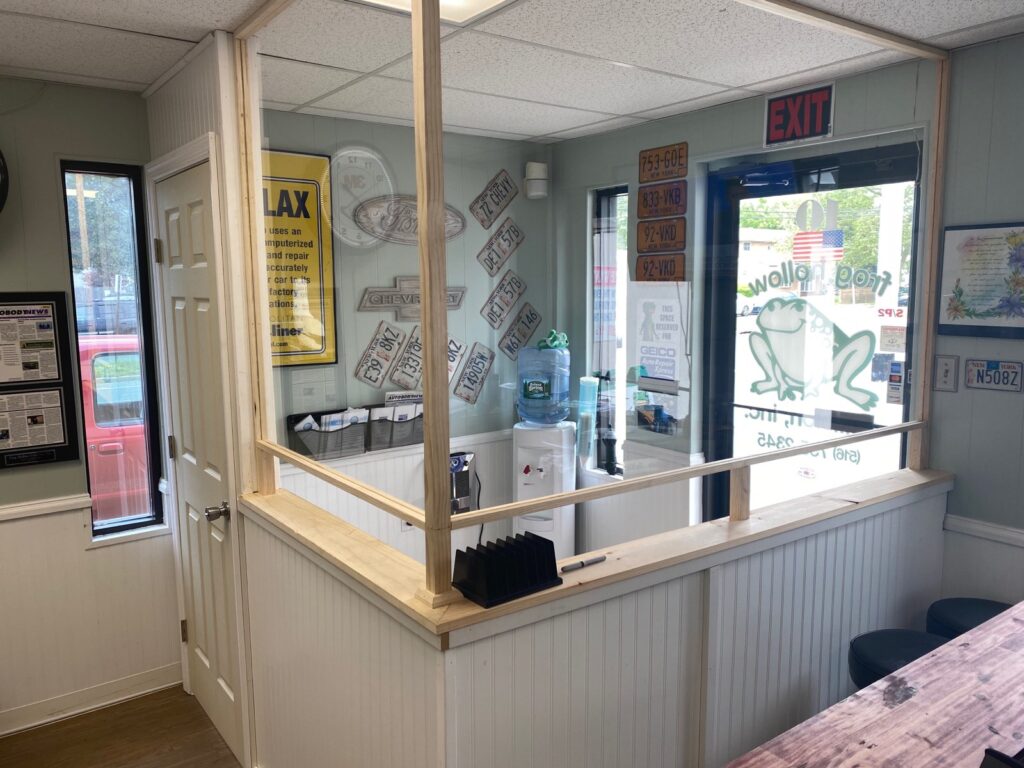 When New York Governor Andre Cuomo closed schools on March 16th to prevent the continued spread of COVID-19 in one of the country's hardest hit regions, Frog Hollow Collision in Bethpage, NY closed its doors for over six weeks. The decision was made by owner Anthony DeMieri whose goal was protecting his employees, his customers, and his own family from the virus. On May 4th, Frog Hollow Collision reopened to a whole new world.
Prior to reopening, DeMieri shared his fears with Autobody News readers: "It's terrifying to know that everything I've worked for could be gone when we reopen. I may not be reopening to what I had; I have no idea what I'm reopening to. It's hard to fight the mental anguish of thinking your whole life's work could be gone, just like that. I'm hoping that's not the case."
A month after reopening, DeMieri provided an update on Frog Hollow Collision. "Our volume isn't even half of what it was before the pandemic began – we're about 60% down from where it was. Compared to May 2019, business last month was off by over $200,000, and for a small shop like mine, that hurts. Everything was going great until this happened. In the last three years since I took ownership of Frog Hollow, we had tripled our business, and in one fell swoop, it's gone. It's crazy."
Because of the decrease in car count, DeMieri has not yet been able to bring his technicians back. Currently, he and his brother are repairing vehicles, while one service advisor maintains the front office operations. According to DeMieri, "My brother and I have been the only ones working in the shop. I was a technician for 20 years, so this situation is evidence of how important it is for shop owners to know how to perform their business. Still, I don't want to do the work myself. I want to bring my guys back, but our workload just doesn't support it yet."
With few employees in the shop, it has been relatively easy for Frog Hollow Collision to ensure social distancing by setting up glass containment areas and requiring face masks to be worn. "The few of us coming into the shop stay as far apart as possible, and the glass partitions we installed prevent any contact with customers," DeMieri stated.
Insurers' decision to rely solely on virtual inspections has been another challenge DeMieri has been forced to contend with since reopening the shop. He expressed, "Before this, we didn't accept virtual estimates because we wanted to keep adjusters employed, but insurance companies are using the virus to latch onto virtual inspections, which are a lot more work for us in the shop."
DeMieri believes there are a multitude of factors contributing to the reduction in car count. "A lot of people are still working from home or not using their cars at all, so fewer accidents are taking place, but my biggest problem is that customers are very reluctant to get into rental cars for fear they haven't been properly disinfected. Many customers are bypassing the rental altogether, especially since the lower volume in the shop means a faster turnaround time. Still, fewer families are planning summer road trips, and people aren't going to have accidents and need a repair if they aren't leaving home."
Most other shops in DeMieri's market are struggling with the same problems related to decreased car count and consumer discomfort. In an effort to drum up some business, Frog Hollow Collision has used flyers, social media, and local radio stations to advertise that they're open for business as well as to explain their disinfectant procedures. The shop is also offering special promotional discounts for first responders and medical professionals.
Despite all his efforts, DeMieri is also concerned about losing the crew he values so highly. "I closed the shop because it's what I felt was safest for everyone. I protected my guys because they're more important than money, and that's what I believe a real leader should do," he explained. "Unfortunately, the extra unemployment benefits end in late July, and I can't imagine our volume coming back in six weeks. We're built on volume here because it's so expensive to repair vehicles and to run a business in NYC. Unless our car count miraculously increases, I imagine that I'll lose some of my guys because I just can't afford to bring them back yet. It feels like everything I've been working to build is just gone."
Regardless of the challenges he's faced, DeMieri remain optimistic, pointing out, "Customers believe what they see more than what they're told. Although NYC leadership pretty much let the city burn down [during the riots], I think the protests will have a positive effect on the economy, as well as on racial relations. If people don't get sick after gathering in mass numbers, it'll provide confidence and a feeling of security to those who are still reluctant to leave their houses."
Knowing what he now knows and realizing that he still doesn't fully understand how drastically the COVID-19 shutdown will impact Frog Hollow Collision in the long run, does DeMieri believe he made the right choice in closing the shop? "If everyone in my shop and my family all live to tell this story, I will never regret my decision," he stressed. "We're alive, and asking for anything more is greedy. My family and my crew are worth more to me than a profit."
DeMieri continued, "It hurts to think of how this has impacted my business – we all need money to survive, but a fat bank account doesn't stop bad things from happening. I can always make more money, but I can't bring someone back to life, I can't restore health. While it's too early to fully know the extent of what I've lost, I'm grateful for all I have and wouldn't risk the lives of those I love for the benefit of my business. My family, not my shop, is what allows me to live a happy life."