Collision Repair Community Provides Aid Amidst Corona-Crisis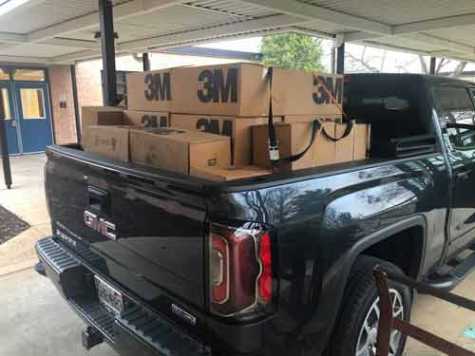 COVID-19 has ravaged the U.S. for more than a month, but even as social distancing separates us physically, people around the world have come together to support and aid one another.
In the collision repair industry, equipment suppliers, paint manufacturers and industry associations have been hosting free informative webinars related to the ongoing crisis and updates on legislation, as well as other important topics.
Also, as essential personnel, collision repairers around the country have been hard at work, repairing ambulances, police vehicles and the vehicles of medical and other essential personnel.
Greg Murphy of Murphy's Auto Body Frame in Crossett, AR, reported his shop was repairing three police vehicles.
"Someone has to keep them on the road," Murphy said.
"We have to help the ambulances, the fire departments, the police department. They're going to need someone here for them," said William Wells, owner of William Wells Tire & Auto in Starkville, MS.
Collision repairers around the country have also been stepping up to donate the masks and gloves that have been in short supply at hospitals around the U.S., where doctors and nurses risk their own health to save lives daily.
Many associations have called out to their members for donations, including the Independent Garage Owners of North Carolina (IGONC), which reached out to members after receiving a request from the state's Legislature asking for any personal protective equipment (PPE) they could donate.
"A lot of shops use PPE, and our local doctors and hospitals are in dire need of masks, gloves and other protective equipment," said Tricia Sauls, associate executive director.
When Charles Scilipote, owner of Auto Collision Specialists in Reisterstown, MD, heard medical professionals were in need of PPE, he obtained and donated 1,200 N95 masks to LifeBridge, an organization operating five hospitals in Maryland.
"It feels great, actually. This was the perfect thing to do," Scilipote said.

"[Scilipote] handed me two cases of masks, which are like gold for us," said Neil Meltzer, president and CEO of LifeBridge Health. "There was one team member that actually started crying when he heard that we had these masks because they're in such demand."
Art Harris of Finish Pros, an MSO in the Atlanta, GA, region, responded to the request for N95 by donating 24 boxes of masks to local hospitals and nursing homes. He also started the #N95Challenge, encouraging other shops to follow suit.
"The body shop industry is some of the most powerful and influential people in the world, and when we get together, I don't think there's anything that can stop us," said Harris, a collision repair professional for more than 30 years. "We had extra masks, and if a small portion of shops have one box they can donate, we would definitely have a good impact."
Bill Sorochman of County Line Collision Center in Murrysville, PA, contributed his shop's only unopened box of N95 masks to a nearby hospital as well.
"I would hope that other body shops, manufacturers, painters, things of that nature, would look and see what kind of masks they're using and help everybody out by donating them to the hospitals or ambulance services—the people who really need them," Sorochman said.
"Through IGONC, we have donated unopened boxes of gloves to our local hospital, which is, coincidentally, the same hospital that my children were born in 30 years ago, a long time to come full circle," said Paul Morro of Morrobuilt in Raleigh, NC.
Ted Rainier, from Ocean Bay Auto Body in Point Pleasant, NJ, donated several boxes of N95 respirators, Tyvek suits, gloves and booty covers to his local police, rotary club, fire department and first aid station.
"Now, it's time to give back. In times like these, you always ask yourself, 'What can I do?' That's how we all built our businesses; we all ask customers, 'How can I help you?' That's what we all do," Rainier said.
In the Collision Repair Technicians United Facebook group, Marc Gabbard of GSR Quality Collision Repair in Yakima, WA, shared his shop had donated half their supply of 3M masks to a customer who is an RN at a local emergency room.
"He has been unable to get a hold of masks for weeks. He told me he would drive up to the curb and roll his window down and have me toss them into the car from a safe distance because no doubt he's been exposed to the coronavirus. These men and women are heroes," Gabbard said.
In response, more than a dozen repairers around the country shared similar stories.
Frog Hollow Collision, Inc. in Bethpage, NY, has started a GoFundMe page to raise funds to purchase protective plexiglass masks for local hospitals and first responders after sourcing a local company to produce the masks at cost.
"In the middle of New York, it's a war zone, and these guys just don't get it. They think it's a joke; it's not a joke," said shop owner Anthony DeMieri.

The collision repair industry's generosity extends to one another, as well as to local hospitals. When one shop owner lamented his inability to find hand sanitizer in a Facebook thread, another repairer in his area offered to coordinate a no-contact meetup to share alcohol and aloe vera—to make his own hand sanitizer, as well as bleach and Lysol wipes.
Following the example that collision repairers have set for them, collision repair programs at tech schools are also joining the effort to support our medical professionals.
The Eastern Center for Arts and Technology in Willow Grove, PA, recently donated hundreds of items to the Montgomery County's COVID-19 Response Center, including 140 N95 masks from the collision repair program, as well as gloves, safety goggles and surgical masks from the school's other programs.
Likewise, several departments at the College of Lake County in Grayslake, IL, including the collision repair program, have gathered and donated medical supplies and PPE to local hospitals. Donations included thousands of gloves, surgical gowns and surgical masks, as well as hundreds of N95 masks.
The automotive and collision programs at South County Technical School in St. Louis, MO, collaboratively loaded a truck with more than 3,500 3M facemasks to donate to a local hospital.
Gene Slattery, advisory board chairman for North and South Technical High Schools, said he was proud of the schools for "doing the right thing and helping the hospital workers, who need all the help they can get. It is a great effort by people who take action."
Sherwin-Williams locations around the country have donated thousands of masks to their local hospitals, and in response to the high demand for N95 masks, 3M has doubled its production.
GM launched a rapid-response project to produce face masks and expects to deliver 20,000 masks across the country by April 8, promising the ability to produce 1.5 million masks monthly once they reach full capacity. GM is also working to manufacture ventilators in high demand, as is Ford.
Desiring to help local communities, SuperATV delivered shield guards to local businesses to protect retail workers as they continue to serve the public, and DENSO's Maryville, TN, location is preparing to make face shields for local health care providers to protect the nation's front line workers.
In New Jersey, the Meadowlands Exposition Center, home of the NORTHEAST Automotive Services Tradeshow since 2009, is being prepared for use as a temporary pop-up hospital, and AASP/NJ and Greco Publishing have collaborated to provide the registration infrastructure along with lanyards and badge holders.
"AASP/NJ is proud to assist however we can," said AASP/NJ President Jerry McNee. "We hope this helps hospital staff better navigate their new location as they devote themselves to treating patients in the weeks to come."
Another way collision repair professionals are stepping up for the community has been through increased sanitation processes and offering expanded services to make customers feel safer.
Body Works Plus in Charlotte, NC, has started offering no-contact pickup and drop-off for customers' cars at no charge, and they've enhanced their communication processes to keep customers informed throughout the repair.
In addition to donating medical gloves to local healthcare facilities through IGONC, Stan Creech of Creech Import Repair in Raleigh, NC, reports his shop is "going to great lengths to assure vehicles are sanitized before returning them to customers."
In Newport, DE, Greg Buckley of Buckley's Auto Care has begun offering deep sanitizing of the vehicle using an EPA-approved solution, normally a paid service, as a standard feature for no additional charge. He and his team have also made time to run errands for clients who are shut in, and Buckley is reviving his "Shop Soup" podcast on Facebook to focus on small businesses and what they can do to survive. He has been vocally supportive of PPE donations and has encouraged his peers to donate what they can as well.
DCR Systems LLC has been reaching out to dealer partners, their team, customer base and insurance agencies to explain how they are keeping their facility safe, and about the touchless services they offer, including curbside service, online estimating and scheduling, disinfecting services and more.
"We have re-introduced our Electronic Claims Package, which eliminates any unnecessary interaction with insurance companies," said DCR Market Specialist Pam Giarrizzo.
When offering sanitization services, it's important to take note of SCRS's recent warning to exercises caution with the language used in promotion of services.
"For instance, your facility can assure that you 'apply disinfectant,' but there is no testing protocol to ensure that you 'disinfected' the vehicle," SCRS said. "In our interaction with other industries, this has been a repeated caution; describe only what you performed, rather than a promise of what it accomplished."
"Some good changes will stick even after the scare is over," predicted John Hill, of The Autotrends in Greensboro, NC. "I can't say how real and important it is. Having lost at least one close friend to the outbreak, it makes these times so real. No longer do I believe all the lacquer thinner, asbestos, brake cleaner, etc. is enough to kill any germ I may encounter."
John Molinaro of Streamline Auto Body in Little Egg Harbor, NJ, found a different way to support the community.
"Locally, we have donated to food establishments who are feeding our front line workers at hospitals, police departments, fire departments and the like," Molinaro said. "Also, another food place is feeding the needy so we will be supporting their efforts too."
While there's no doubt our country is facing a very challenging period in our history, there is hope, and that's embodied by those people who are stepping up to do the right thing to help protect and support those who are saving lives.
It's no surprise that many in the collision repair industry are among that group, proving we're all in this together and we will come out on the other side. Stay safe, everyone.
Shops interested in supporting the community during the COVID-19 pandemic can visit getusppe.org to find a local facility in need of PPE donations.
Search for your local food pantry at feedingamerica.org.
To find out how to donate blood, another valuable commodity desperately needed around the country, visit redcrossblood.org.