IGONC Celebrates Largest ASTE Ever, Complete with Attention from Wrench Nation and Remarkable Results Radio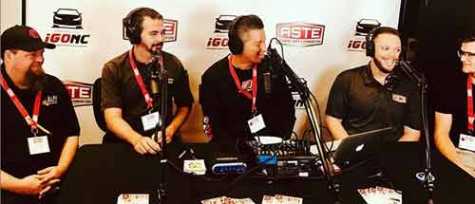 On Sept. 27-29, the Independent Garage Owners of North Carolina (IGONC) hosted its 2019 Automotive Service and Technology Expo (ASTE) at the Embassy Suites and Convention Center in Cary, NC.
According to IGONC Executive Director Bob Pulverenti, "This was the largest ASTE ever. Shops attended from 23 states as well as Canada, and vendor booths space sold out early. We had Carm Capriotto creating live and recorded podcasts throughout the event, providing insight into the running of a business and where our industry is headed, as well as videos created by Frank Leutz of Wrench Nation featuring a technician retention deep dive."
Associate Executive Director Tricia Sauls added, "The event was amazing, far exceeding our expectations. We had approximately 700 attendees, including vendors, so we had a little more than 500 shop owners and techs. This year, we were able to highlight our new apprentice program, with several apprentices in attendance and participating in classes for the first time."
As the self-proclaimed largest aftermarket automotive show in the southeast, ASTE 2019 featured two full days of training classes, a trade show, networking opportunities, an awards dinner and much more. The 2019 ASTE boasted 36 management and technical seminars taught by nationally known speakers.
Presenters for ASTE 2019 included Rick White of 180Biz, WorldPac's Bernie Thompson, Craig Van Batenburg of ACDC, ATI's Jim Silverman, Danny Sanchez from Autoshop Solutions, NASTF's Donny Seyfer, Jimmy Lea from Kukui Corporation, and many other renowned industry educators. Seminar topics ranged from technical training to seminars on profit, sales, marketing and everything in between that professional collision repair and automotive service professionals need to know to stay current in the industry.
The Town Hall Forum held on Friday, Sept. 27 featured a discussion on "Technician Retention," hosted by Capriotto of Remarkable Results Radio, who also created live podcasts during ASTE 2019. Leutz also featured the event through live videos.
Each evening presented a variety of networking opportunities for attendees. A Manager's Reception and ASTE Pre-Party was held on Thursday, Sept. 26, and on Friday, Sept. 27, attendees enjoyed a pizza party and the ASTE Casino Night.
The agenda on Saturday, Sept. 28 featured a number of highlights. In addition to continued educational and networking opportunities, the ASTE Vendor Show was held, providing an opportunity for attendees to meet industry vendors and learn about their products. Over 60 vendors participated, including Advance Auto Parts, NAPA Auto Parts, Broadly, Automotive Training Institute, AutoZone, Sampson Bladen, Diagnostic Network, NASTF, Repair Shop Coach, Go Powertrain, Operation Motor Sports, Shop Marketing Pros, Autotext.me, MotorAge, ACDC, Garage Gurus, WorldPac, ACDelco, ZF Technologies, and many more.
ASTE 2019 concluded on the evening of Saturday, Sept. 28 with a banquet dinner and IGONC's Annual Induction of Officers and Awards Ceremony. During the ceremony, Mike Allen of Carfix was honored with the IGONC Presidents Award, and Lucas Underwood of L & N Performance Auto Repair was recognized as the Member of the Year for the second consecutive year. Gary Summerfield, who recently retired from his four-location MSO, Summerfield's Automotive, received IGONC Life Membership status.
In recognition of supporting IGONC by traveling to North Carolina ten times this year to educate association members, White was honored with the IGONC President's Award. Two Associate Members of the Year were honored: Sanchez and Shelby Damron of Jasper Engines & Transmissions. IGONC also recognized four vendors with awards for Most Outstanding Booth by Attendee Vote; recipients were TekMetric, Circuit Board Medics, Leads Near Me, and Kukui Corporation.
Addressing the importance of association-sponsored events, Pulverenti stated, "As an association, we hear our members and try to provide them with the classes and information they are looking for. Just as important, these events allow people to build relationships within our industry that help support their business and allow it to thrive. In addition, we are able to highlight new programs, like our regional training opportunities and the NC Automotive Apprentice Program."
"As ASTE continues to grow and garner national prominence, we are very excited to work with so many new vendors as well as repair shops from all over the country. It is our mission to provide an educational, fun event at a very cost-effective price," Pulverenti said.
"We work hard to create a show that is welcoming as well as affordable for all shops to attend. Support and training can take a good business to a great business and it's important that these learning opportunities are available to everyone. We are very fortunate to have some of the best vendors, who help us keep our show affordable to shop owners while still providing world-class speakers and training."
"We couldn't be happier with the results of our 2019 ASTE, and we are ready to get started on making our 2020 ASTE even better!" Sauls noted. "The response from 2019 attendees has been overwhelming. We have heard nothing other than good comments, saying ASTE 2019 was the most friendly, well organized, best value show they had been to. We already have several vendors in line for next year and have been flooded with speakers submitting content. All signs point to 2020 being even bigger and better!"
For more information on ASTE, visit asteshow.com. To learn about IGONC, visit igonc.com.