Service King Wears the Crown at CREF Top Tech Mentor and Mentee Competition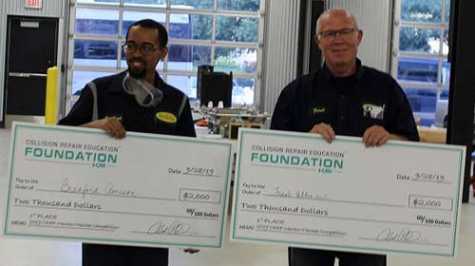 The Collision Repair Education Foundation (CREF) hosted its inaugural Top Tech Mentor and Mentee Competition at Ranken Technical College in St. Louis on Saturday, Sept. 28.
Christen Battaglia, director of strategic partnerships for CREF and event organizer said, "The goal of the competition was to recognize the performance of the next generation of collision technicians and their mentors on critical skills necessary to repair today's high tech vehicles. Mentor and mentee teams performed and were tested on competencies the industry has deemed necessary for an entry-level technician. CREF wants to promote mentoring and celebrate the companies and people who are preparing the next generation of collision techs."
"For a first-time event, everything went seamlessly," Battaglia added. "It went really well. We had nine teams competing, compared to our goal of ten to 12 teams, which was great, though we would have liked to see some participation from local shops. The event ran from 8:30 a.m. until 4:15 p.m., and only a couple of teams were unable to finish; most teams were wrapping up by 3:15 p.m. The mentors really enjoyed it as much as the mentees, and the competition really promoted the idea that there's a lot of value in mentoring for the individuals and the companies who offer mentorships."
Teams representing Service King took first and third place, while Caliber Collision's team came in second. Mentee Bradford Amison and mentor Frank Allen took the gold, representing Service King in Leander, Texas. Amison graduated from WyoTech in Laramie, WY, and has been a mentee for two years. Each member of the winning team received $2,500, and their company received a Chief PNP90 riveting tool, valued at $8,000.
A mentor for over two decades, Allen believes that a good mentoring program enables the industry to "encourage individuals to enter and become skilled in the trade," CREF wrote in a news release.
The silver place team consisted of mentee John Gault and mentor Bryan Parnell from Caliber Collision in Mt. Moriah, TN. Gault, a graduate of Mid Florida Tech, has been a mentee for just under a year, and Parnell has been a mentor for a year and a half.
Each member of the second-place team received $1,000, plus their company received a Chief MultiMig 190 welder. Parnell believes, "Mentoring is important because quality body repair is a dying art that we must pass along to the younger generation."
Mentee Ian Chambers and mentor Ralph Gonzales of Service King in Dallas came in third place. Currently, a student at Collin College, Chambers has been a mentee for less than a year, and 20-year Service King employee Gonzales has been mentoring for four years. Both members of the bronze team received $500, plus their company received a Chief MultiMig 190 welder.
Gonzales explained why he became a mentor: "It is important to me to show the next generation how to complete a quality repair. It also gives me an opportunity to change a person's life for the better."
Additional competitors included two teams from Gerber Collision, a team from CARSTAR, competitors from Fix Auto, and a team consisting of a recent graduate who started his own company and partnered with his former instructor from Metropolitan Community College.
Ivan Albright, technician development program manager at Gerber Collision, stated, "Mentored training is critical to developing our future technicians. When industry and schools work together, we will enable entry-level trainees to build the skills and proficiency required to become journey-level technicians. I am proud to lead a program that allows newer entrants to the collision repair workforce to provide high-quality repairs through a structured mentor training program. A critical foundation for our success is working with these schools that provide the most current education."
"I want to congratulate all the teams that competed in the Top Tech Mentor/Mentee competition," Battaglia said. "Their energy and expertise is a shining example of how collision industry mentoring programs help new technicians succeed."
Sponsors for the event included Axalta Coating Systems, Gerber Collision & Glass, Chief Automotive Technologies, Norton/Saint Gobain, Service King Collision Repair Centers, Caliber Collision, Ranken Technical College, Enterprise Rent-A-Car, Polyvance, SAS Safety Corp, Automotive Technology, Inc. and SP/2. Battaglia noted, "Without [the event sponsors'] generous support, we would not have been able to celebrate the success of these talented technicians and their mentors."
"Having a strong pipeline of skilled collision repair technicians is critical to the long-term growth of the automotive industry," said Troy Weaver, Axalta vice president of Global Refinish. "Axalta is proud to be a part of the solution by supporting the young men and women who receive training from the CREF and who compete in their skills tests. The skills they are learning today will be invaluable assets for the collision repair industry tomorrow."
Kevin Creegan of Saint Gobain Abrasives added, "The competition's goals of improving technician retention, and promoting a culture of mentorship at the shop level, are consistent with our vision for the collision repair industry. Congratulations to the competition winners, and thank you to all participants and their sponsoring companies!"
Battaglia previously explained the motivation behind CREF's Top Tech Mentor and Mentee Competition, "Each year, the collision industry faces a critical shortage in the number of new technicians entering the industry. Worse, many repair facilities have been challenged by delivering effective mentoring programs for these new technicians to grow their abilities and prosper in the industry. As a result, too many new technicians leave the industry after just a few years, exacerbating the shortage. This new competition is designed to recognize the accomplishments of successful mentors and technicians, and also highlight how it is a strategy for employee retention."
The feedback that CREF has received about the Inaugural Top Tech Competition has been overwhelmingly positive. Battaglia shared, "Everyone wants to do it again, and there's enough energy and excitement around it that we'd like to do it again – hopefully on an annual basis! There's definitely enough momentum, and we hope to be able to announce the next competition early next year. One interesting suggestion that we'd like to incorporate in the next event is assigning tasks to mentors as well, rather than having them merely observe and assist as needed."
Companies interested in participating as competitors or sponsors for the 2020 Top Tech Mentor and Mentee competition should email [email protected]
CREF looks forward to recognizing the 2019 winning teams and companies at the organization's SEMA reception on Nov. 5. For more information about CREF and its initiatives, visit collisioneducationfoundation.org.