Most Insurers Reimbursing for COVID Clean Up Most of the Time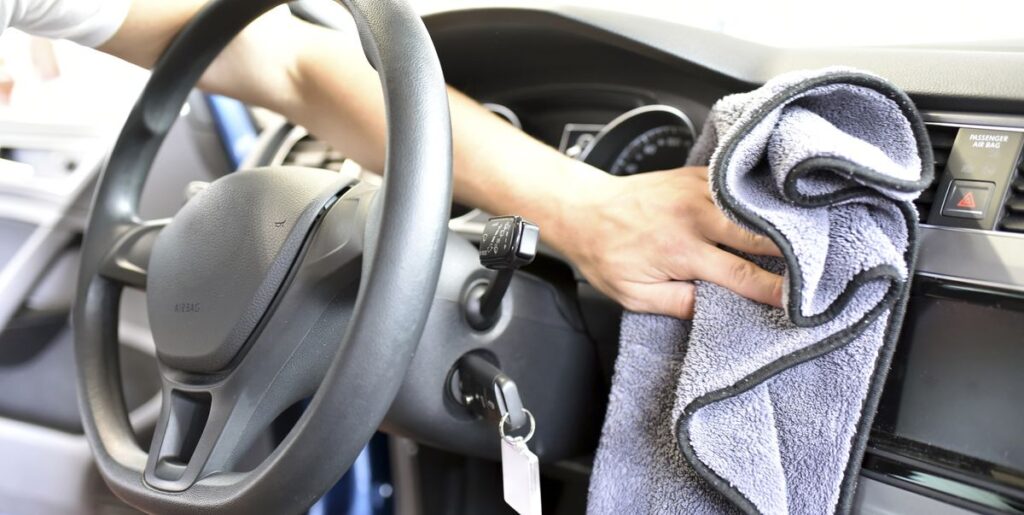 In the wake of the COVID-19 pandemic, auto body shops have been forced to step up their vehicle sanitization efforts.
Sanitization to prevent the spread of COVID-19 is particularly important in collision repair shops because the disease can live up to several days on certain types of metals, according to the National Institutes of Health, which conducted research in collaboration with the CDC, UCLA and Princeton University.

The research found "severe acute respiratory syndrome coronavirus 2 (SARS-CoV-2) was detectable in aerosols for up to three hours, up to four hours on copper, up to 24 hours on cardboard and up to two to three days on plastic and stainless steel."
Nationwide and State Farm have both released statements agreeing to reimburse shops an hour of labor plus $25 for materials for COVID clean up.
In Nationwide's statement, the company wrote, "As with everything we do, we ask that every claim be handled on its individual merit. If the claim merits more than the guidelines, please provide the supporting documentation for our review."
USAA is paying 0.5 labor hours plus $15 for materials for COVID cleanup through June 30. In an April 2 document, USAA Learning Process Consultant Jimmy Horner wrote, "We realize this COVID-19 event has prompted everyone to take extraordinary measures to stay safe. USAA strives to protect our member's financial security and well-being, especially during these unprecedented times."
It's great some insurers have officially released these statements, but are shops actually getting paid for COVID cleanup?
Autobody News talked to repairers around the nation to find out what's happening in their shops. Repair facilities throughout the U. S. confirmed they have received compensation from some insurers, including State Farm, Nationwide and USAA.
"We have been pretty successful in collecting for COVID cleanup," said Brian Shaw of Sudden Impact Auto Body & Paint Shop in Salisbury, NC. "I've had quite a bit of pushback, but getting the customer involved helps drastically! We did a Facebook Live video that detailed out COVID cleanup process, and I used screenshots from it to create a document I can email to insurers to help justify what we are doing during the cleanup.
"I've found that it is always helpful when negotiating for a specific line item to be able provide an attachment, especially now when everything is being handled by email."
Some shops have received payment from AAA, Allstate and Safeco as well. Of course, responses vary by region and insurer.
In Montana, repair shops shared experiences with Safeco refusing to pay, but repairers from New York, Pennsylvania and Oklahoma said all insurers are paying for COVID sanitization.
Collision repairers from all over the country have been told COVID cleanup is not eligible for payment because it's not part of the loss, though the frequency of that has reduced drastically since the beginning of May.
Still, Citizens told a repairer COVID cleanup is not part of the loss, and American Family Insurance insisted the process is the cost of doing business during these times. A Farmers adjuster reportedly said, "The grocery store sanitizes, and I don't get charged to shop there."
After an independent adjuster for Ameriprise agreed to pay the sanitization line item, the insurer informed the shop "the COVID-19 charge is not something that we will be paying at this time, as it is a business decision for shops to stay open to complete repairs and cleaning of the vehicle. It is not directly related to the loss and will not be covered."
Issues have been identified with a variety of insurers, yet the refusals are not consistent across regions even within the same insurance company.
While an estimator from Ohio reported pushback from Grange and Progressive, a Michigan shop owner has received payment from Progressive, as have several others. Travelers, Pekin Insurance and Farmers have also pushed back on shops in certain regions.
"Most insurers are paying us," said Terry Peterson of South Toyota in Dallas, TX. "For the ones that don't, we require an email from them stating that they won't and whether it's their position or their company's position. I don't know if it has changed their minds or not, but I wanted to be able to share their response with the customer."
GEICO was one of the last major insurers to agree to COVID cleanup, though multiple repairers have reported struggles with the insurer regarding this line item. A body shop in Denver, CO, shared a response from April 2 where the insurer's adjuster wrote on the supplement, "Disinfecting vehicle is recommended at all times and falls under the cost of doing business." This was followed up with an email that specified, "Disinfect for COVID-19 is not a covered operation."
"GEICO gives the biggest pushback. After speaking with a GEICO field supervisor, their decision is not paying to sanitize vehicles for COVID-19 because 'it's not part of the claim and you chose to stay open'. I asked for a statement in writing that they decline paying," a Florida collision repair professional said. "Once the dust settles, the companies that did pay will get great ratings and advertising. We need to let the country know what the others put us through by not paying; it'll cost them big time."
An increasing number of repairers have confirmed they are now consistently receiving COVID cleanup payment from GEICO.
Regardless of their individual experiences with specific insurers, most collision repair professionals around the country agree on one thing: insurers should be paying for COVID cleanup.
"We can't get in the vehicle without doing [the sanitization] so if they don't pay it, they can't get the estimate and the photos," one technician pointed out.

Jack Lundberg, former executive director for the Ohio Board of Motor Vehicle Collision Repairs, wrote, "Insurers absolutely should be paying for a government-mandated order to disinfect repaired vehicles, either via an add-on or alternately, via a higher hourly rate. It's an unavoidable, and thus due and owing, expense."
When shops encounter objections to the COVID cleanup line item, they have several common approaches to dealing with it. A common opinion expressed was shops should charge the customer, demonstrate other insurers are paying for it and ask the customer to file a complaint with the state's insurance commissioner.
"GEICO, Progressive, State Farm and USAA are offering help with the cleaning for our shop; however, they are all DRP and tend to offer blanket positions," said Jon Whitaker, estimator at Classic Collision in Georgia, suggesting, "Non-DRP adjusters most likely have been told use discretion on case-by-case, so be nice to your adjuster and offer 100% documentation and you'll get it."
A more extreme option proposed would be to quarantine the vehicle, though it seems unlikely that customers would choose this option instead of paying the nominal charge out of pocket.
Some repairers are not charging for the COVID cleanup for fear it poses a liability issue if the sanitization process was not effective.
The Society of Collision Repair Specialists (SCRS) addressed this concern in a statement advising repairers to use caution regarding how they communicate vehicle sanitization to customers.
"We've also seen examples of businesses promoting services to 'clean', 'sanitize' or 'disinfect' customer vehicles," SCRS wrote. "SCRS urges caution with the language used in your promotion of services. For instance, your facility can assure that you 'apply disinfectant', but there is no testing protocol to ensure that you 'disinfected' the vehicle. In our interaction with other industries, this has been a repeated caution; describe only what you performed, rather than a promise of what it accomplished."