Plano Shop Joins CARSTAR, Doubles Revenue in Four Years
Thursday, 25 May 2017 19:23
Featured in AUTOBODYNEWS
John Royer, general manager at SheerMetal CARSTARin Plano, TX, has no qualms admitting that his journey in the collision repair industry has been rather unorthodox, entering the business just four years ago with no experience.
In 2013, some business associates and friends asked him to manage the business they had purchased four years earlier after the previous manager, with an abundance of industry experience, left. Since Royer began running the shop, the business has more than doubled its revenue from $1.3M to $4.0M in 2016.

How did Royer achieve this seemingly miraculous feat? With the goal of helping the shop grow, the ownership group sought to join a larger, proven system, and after a review of industry business opportunities revealed the value of becoming a CARSTAR franchise, Royer felt confident that they had found the solution to grow the business. He noted, "We implemented the processes and systems CARSTAR gave us, and people have taken notice. Over the first four years, the business saw many ups and downs, but since becoming a CARSTAR shop, we have seen substantial growth; I feel that's the ultimate compliment to the CARSTAR opportunity."
Despite having no experience in the collision repair industry, a group of Royer's business associates decided to invest in a Plano body shop in 2009. Royer joined the venture in 2013, and the business has taken off in large part due to the blueprint provided by CARSTAR. Royer recalled, "The technicians and people running the shop had a lot of experience, and some of the employees even had equity in the shop. I thought it sounded like a worthwhile opportunity, so we made an investment in the shop."

When the shop manager left in 2013, the owners recognized the need for a change to compete in their market which is the home base of Caliber Collision and Service King. Royer said, "There are four large MSOs within three miles of the shop. We knew we had to compete at a different level with regards to knowledge, process and systems. We believed that CARSTAR's offerings could provide the experience and knowledge we lacked in the industry and enable us to perform in this market.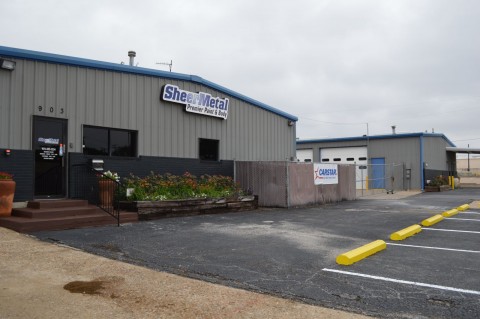 "CARSTAR offered a blueprint for running an efficient shop, compared to the mom and pop shop with which we'd started," Royer noted. "CARSTAR spent time helping us integrate and change the way we did business, providing employee and management training to help us move toward a better system. CARSTAR assigned a great director of operations with decades of experience to support our shop, and like a consultant, he helped our shop identify areas where we could improve. He has been a tremendous resource that we use frequently."

Royer has also found a lot of value in the owner/operator meetings CARSTAR hosts to allow industry professionals to share information and network with one another. CARSTAR also offered insurance and fleet work connections, but in order to develop relationships with insurance companies, Royer had to use CARSTAR's processes to improve his shop's KPIs. He noted, "Those improvements were really instrumental in turning the shop around."

Discussing the improvements that were made, Royer noted, "Everything! A wise man once told me: 'what gets measured gets done.' We used the CARSTAR blueprint to implement measurements and keep employees informed of clear-cut goals. We now have a very specific process and timeline to measure against and ensure efficiency, whereas we were just working as fast as we could before joining CARSTAR."

Royer has found it very beneficial to service fleet accounts due to the proximity of the large MSO competition in the market and a lack of CARSTAR's presence in the area. The volume of fleet accounts helped him grow the business. "With an increased focus on customer satisfaction, an added plus was the number of happy fleet customers that brought their personal cars to be repaired," Royer shared.

When asked how he doubled his shop's revenue in just three years, Royer quipped, "That's ultimately THE question, right? We have many of the same paint and body technicians, but our focus on customer service has enabled us to grow the business. I hear some people say this is a B2B business, but we believe this is really more of a B2C business. If we hit our cycle time numbers and we have exceeded our customer's expectations, our business will grow. We work hard to ensure customer and employee satisfaction, and the processes and systems we learned from CARSTAR have guided us along the way."
Joining the CARSTAR franchise taught Royer how to operate a shop efficiently and effectively, but he believes customer service has also been a large component of his shop's success. He points out, "At the end of the day, this is about satisfying the customer. A lot of people think this industry is about cars, but it's really about taking care of our customers, from the way we treat them to updating them, to owning our mistakes when we make them. The collision repair industry isn't about just cars—more importantly, it's about the people who own those cars we repair."
Joining the CARSTAR franchise taught Royer how to operate a shop efficiently and effectively, but he believes customer service has also been a large component of his shop's success. He points out, "At the end of the day, this is about satisfying the customer. A lot of people think this industry is about cars, but it's really about taking care of our customers, from the way we treat them to updating them, to owning our mistakes when we make them. The collision repair industry isn't about just cars—more importantly, it's about the people who own those cars we repair."

These days, the ownership team at SheerMetal CARSTAR is experiencing increased revenue and profits. They are busy trying to find a location for the second shop coming in 2017. According to Royer, "Becoming a CARSTAR franchisee has made this dream a possibility."