Shops Using Downtime Advantageously During COVID-19 Crisis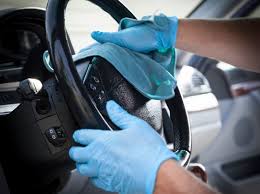 As the U.S. strives to prevent the spread of COVID-19, most states have instituted some version of a shelter-in-place order.
Many businesses are experiencing a decrease in workload, including collision repair shops and related businesses. While furloughs are happening, experts advise against it, especially in light of aid offered by the U.S. government, including the Paycheck Protection Program (PPP), which provides small businesses with forgivable loans to keep employees paid.

Most shop owners are doing everything they can to maintain their employees, including pursuing less traditional schedules and duties.
Industry leaders agree that looking for the opportunities within the current situation will help collision repair professionals maintain a more positive outlook and come out in a good position on the other side.
"No one wants to face declining car counts and repair volume, but if there is a silver lining to all of this, it does provide an opportunity to focus on how you can improve your business during the downtime," VeriFacts CEO Farzam Afshar said.
Improving the business can take a variety of forms, including maintenance, financial and training opportunities.
During this period, many shops are using the extra time to clean and sanitize their entire facility. Deep clean the paint booth, change filters, service or upgrade equipment, power wash the building and reorganize to enhance efficiencies to prepare for the day the work starts coming back in the door.
Kevin Anderson of Elite Auto Body in Gambrills, MD, has his team gutting the shop, purging junk and painting the floor and walls.
At Downingtown Collision in Downingtown, PA, Tim Hedrick is "working because I'm trying to make sure my guys can collect a real paycheck and not unemployment. I'm paying them to do maintenance and sweep and other stuff around the shop."
At Parks Royal Body Works in Boise, ID, the technicians are still processing their current workload, but after that, Matt Thornton has plans to deep clean the building, convert the booths to LED lighting and replace office carpet.
"That should keep them busy for a couple of weeks. We are taking it day by day and keep adjusting our ideas and finances as needed," Thornton said. "We applied for the PPP, which will really help."
The team at Cocoa Auto Salvage in Cocoa, FL, is employed on special projects like resetting the yard, maintenance and auditing as well. Owner Shan McMillon is also using the downtime to evaluate her inventory and update settings in her electronic platforms.
"I have more time to work on my business, instead of in my business, and I'm trying to take full advantage of that," McMillon said.

DCR Systems LLC is processing paperwork and accounts receivables during the lighter supply of vehicles, according to Marketing Specialist Pam Giarrizzo.
"The team is working on ways to communicate with the insurance companies and the customer to try to lessen or eliminate short pays. It just takes more communication with both parties," she said.
"Develop your fully reopen checklist and get to work. 'Fill the potholes,' meaning go take care of the little things in your systems and processes that you just always seemed too busy to take the time needed and fix," said John Hill of The Autotrends in Greensboro, NC. "If your building needs a little paint, it's the perfect time to freshen things up."
On a recent CIECAst, Mike Anderson of Collision Advice recommended shops analyze their financials to look at areas they can reduce or eliminate.
Closing out repair orders, chasing receivables and establishing new accounts may be worth a look, as well as audits and associate reviews, which often get deferred due to workload.
With the reduction in work, many shops may be tempted to reduce or even eliminate marketing efforts, but successful shop owners disagree with that approach.
"If your shops are slow, use this opportunity to put yourself in front of your customers," said Brian Shaw from Sudden Impact Auto Body & Paint in Salisbury, NC. "I'm not a very good speaker and don't do well on camera, but right now, at least in North Carolina, our customers are sitting at home scrolling Facebook. Try to have fun and stay positive!"
At Body Works Plus in Charlotte, NC, Brian Davies has been sending email blasts to previous customers, which generate a 55% return ratio; the day after he sent the first blast, he received a job.
He contracted with a local marketing company to set up a free valet for customers to have their vehicles picked up and dropped off, sans contact.
"We amped up our budget for marketing and started promoting our business on two new radio stations. Last week, I did a Facebook Live about a special we're offering, and that went really well," Davies said. "If things slow down, we've taken on a project to repair a veteran's truck, and if it comes to it, we'll paint the floors and perform maintenance."
"Do not stop marketing. If anything, increase it," Hill said, recommending shops keep an eye on the future throughout this crisis. "Everyone is a startup now, and it's a great time to adjust those pay plans you were too timid to address. Get help wanted ads out. We all knew the labor market was too tight with everyone employed, and now, we can get and retain some quality applicants.
"It's going to be a real-life game of musical chairs when people get back to work," Hill said. "Plan now so you can get the right people lined up for the right chairs. The hysteria is going to end, and while it may be a little jagged getting to the new normal, I believe that many of us will like it better, ultimately."
Preparing for the future by ordering parts ahead of time, especially in light of staggered deliveries, can be helpful, Anderson recommended.
Paul Morro of Morrobuilt in Raleigh, NC, agreed.
"Because I work on 40- to 50-year-old British cars, parts supply is critical, and when I received an email from my next-day supplier that they were temporarily shutting down operations, I placed a large hard parts stock order from a different supplier that is still in operation to ensure I can satisfy future customer vehicle repairs," Morro said. "I normally order as needed, but I wanted to be certain that I'd prepared for whatever the future holds."
Another common practice among shops is revising their employees' work schedules in some way.
"We're still open five days each week, but our techs have gone to a four-day workweek, reducing payroll by approximately 20%," said Stan Creech, from Creech Import Repair Inc. in Raleigh, NC. "During idle time, we clean the shop, paint, update equipment and perform maintenance."
R&N Motor Company, Inc. in Sanford, NC, has emailed its customer base to offer vehicle pickup and drop-off, is focused on sanitization and has begun preparing for equipment updates.
"We lost a tech to a government job, but it couldn't have happened at a better time," Manager Robert Crawford said. "There's still enough work coming in to keep two techs going. If we get caught up, they leave an hour or two early, but we still pay them to make up for the lack in billable hours. We are making plans to hire a new tech."
In Little Egg Harbor, NJ, one of the areas of the country hardest hit by COVID-19, John Molinaro of Streamline Auto Body erred on the side of caution.
When New Jersey Gov. Phil Murphy implemented a stay-at-home order, Molinaro instructed employees to follow the order, "although we are essential," he said.
"They have received full pay for the time they are out, and my rent will be paid on time," Molinaro said. "My customers were supportive in our decision with regards to delays in completing their vehicles, as well as our scheduled customers understanding our decision."
Molinaro didn't pay his techs without assigning them some work, though.
"We used this time to review SOPs and learn new procedures and technology from the products and tools we use," he said. "Each employee is asked to view two hours of training videos each day, and Collision Hub has been amazing in having videos in one place for my techs to view, offering over 850 videos on YouTube."
Anderson recommended shops take advantage of downtime by reviewing repair guides from the manufacturers they repair and investing in training.
Crawford, Davies, Creech and Thornton all have plans to train their teams as well. Often, shops complain training causes delays in the repair process, but with a lack of workload, this is the perfect opportunity to take advantage of the many virtual training opportunities available.
Due to the current situation, many associations and industry supporting companies are providing free resources and training opportunities online.
Here are just a few websites offering free or discounted webinars:
Although there are many challenges ahead, there are plenty of ideas to help shops keep employees working with a little creativity and positivity.
Good luck, and stay safe.