Thomas Greco Publishing Names Chasidy Rae Sisk as Managing Editor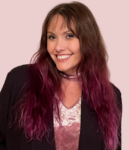 Nutley, New Jersey (August 30, 2021) – Thomas Greco Publishing Inc. (TGP), is proud to announce that Chasidy Rae Sisk will be joining its publishing team in the role of Managing Editor, effective September 1.
Sisk brings nearly 15 years of professional writing and editing experience to her new position. For the past decade, she has written almost exclusively for the automotive and collision repair industries, producing content and materials for various magazines, organizations, websites and trade associations. Sisk's articles have been printed in multiple industry publications, including BodyShop Business, AutoInc., Fixed Ops Magazine and Autobody News.
"We are absolutely thrilled to have Chasidy coming on board," TGP President Thomas Greco says. "She is one of only a handful of people who have the talent, experience and knowledge of writing and managing collision repair trade publications. We feel we have set a high standard over the last three decades and we are certain Chasidy will help us maintain that."
As Managing Editor, Sisk will assist in overseeing editorial operations for the production of the monthly print and digital magazines. She will manage the team of reporters and coordinate with the sales and marketing teams at TGP. Sisk possesses a B.A. in English from the University of Delaware. She is also an active member of the Women's Industry Network®.
Sisk is "excited to continue learning about and writing for this exciting industry. I fell in love with writing about automotive and collision during my first interview in 2011, and I'm looking forward to seeing everybody in person at upcoming events. I'm honored to have the opportunity to join the TGP family."
For further information, please contact:
Thomas Greco Publishing
973-667-6922
[email protected]