WIN's 2021 Virtual Conference Demonstrates Collision Industry is "Stronger Together"
After skipping 2020's annual event due to the worldwide pandemic, the Women's Industry Network (WIN®) worked diligently to host the 2021 WIN Educational Conference virtually. Held on May 4th and 5th, this year's conference theme was "Stronger Together."
Event emcee Chelley Canales, an inspirational author, coach and speaker, brought her brand of infectious energy to the 2021 WIN conference while introducing each session, and she kicked the event off by introducing Outgoing Chair Cheryl Boswell who welcomed attendees and noted that WIN had reached record membership with 562 members. Reiterating the organization's vision to be "THE network driving the future of collision repair by attracting, developing and advancing women," Boswell stated, "Our work is critical in today's job market and our changing world."
Referencing the 2021 conference theme and logo, Boswell explained, "We are stronger together. The butterflies represent change, creativity, and endless potential, and although there's obviously more work to be done and more people to reach, we're stronger together, and together, we're WIN."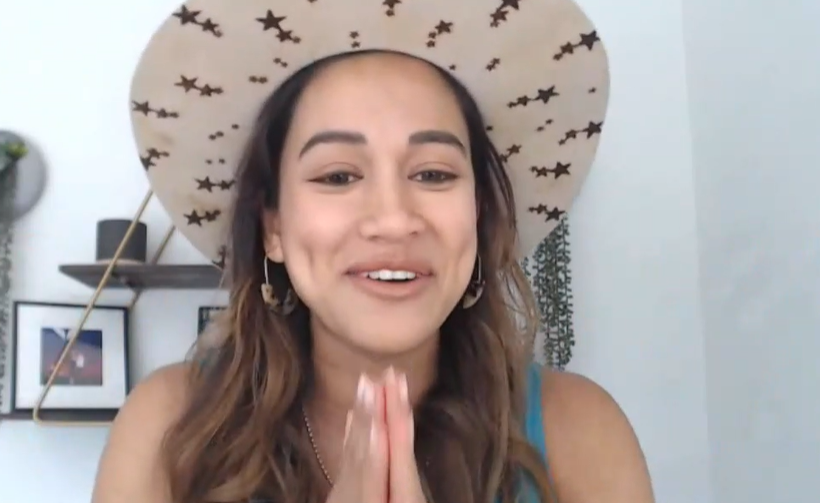 Tuesday morning's keynote presentation was "Step into Your Greatness" with Neeta Bhushan, an emotional health advocate and author of "Emotional Grit." Recalling the challenges she faced as a teenager, Bhushan shared the trauma of her mother's death, followed by the death of her older brother. Two years later, her father was diagnosed with stage 4 lung cancer. "I built coping mechanisms, grit and resiliency," she said.
"Everything you go through contributes to where and who you are today. Accept where you're at, and then evaluate what you love, what no longer suits you, and what you can no longer tolerate; you need to rediscover who you are at your core to reclaim your power," Bhushan stated. "We need to be uncomfortable in order to lean into our courage because this is where we see personal and professional shifts. There is a ripple effect in every aspect of your life as you lean into your greatness."
Bhushan discussed the Japanese concept of Ikigai, which roughly translates into "reason for being," and she shared four key takeaways for finding one's greatness: growth, reveal, innovate and transformation. "To step into our greatness, we need to own our grit, own our power. Know what you bring to the table! Action is required to step into transformation, but actions can be imperfect. There's never a question of whether your action or you as a person are insufficient. Realize that our biggest desire as human beings is to belong and be accepted. Remember how great and strong you are at your core. We are all stronger together, and now it's time to reset and recommit to be able to confront any challenges head on."
Following a short break where WIN played a reel of photos from past conferences, attendees separated for one of two breakout sessions: "Making Your Personal Brand a WINner," or "Opportunity of the Century."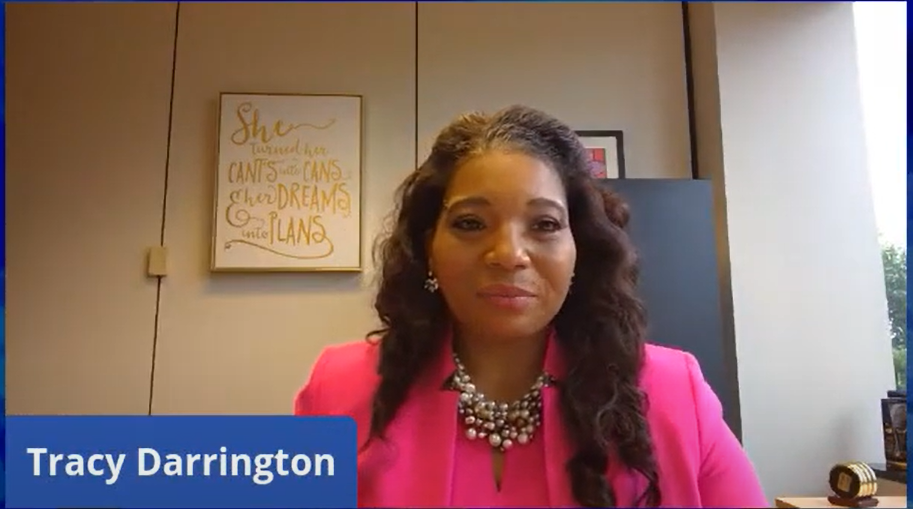 Tracy Darrington from EHI taught a workshop on "Making Your Personal Brand a WINner," and noting that it's impossible to improve one's personal brand without knowing what a personal brand is, she showed a Venn diagram indicating that personal brand is the intersection of how you see yourself and how others see you. "Start thinking about how other people see you," Darrington said. "What other people think about you is critical in the workplace. This is how you create value for promotions, pay negotiations, finding a job, or growing your business if you're an owner. It's all about what other people think of you."
"A lot of people have potential, but other people have an inaccurate perception of what you're capable of doing. You need to connect the dots to make your personal brand strong and get to next level in your career," Darrington continued. "You want them to know what you're worth, and that's where your personal brand plays a role. How many opportunities have you had to shine where you didn't? Is there room to enhance the value of your brand?"
"Three critical components in personal branding is performance, image and exposure, but each component isn't weighted equally," according to Darrington, identifying each component as well as the weight put on it. Performance is the reputation builder that starts your legacy and confirms your ability to take on more responsibility, but it is only weighted at 10%. Image, weighted at 30%, is the message you send before you speak, whether it's intentional or not, and includes your attire, confidence, and demeanor. "You develop your image early in your career, and every interaction counts," Darrington said. "Make sure they are all positive."
Exposure has the highest career impact, at 60% of the PIE chart, and exposure is how others know about your performance, it makes you visible to those who can influence your career, and it can be enhanced by a network of mentors, bosses and champions. "Sell your strengths by performing exceptionally well, cultivating your image, and managing your exposure, so that the right people know and remember you," Darrington said. "It may be uncomfortable, but the first step to building your personal brand is putting yourself out there."
Darrington offered four strategies for creating a personal brand. First, start thinking of yourself as a brand, then understand yourself and be your "authentic" self. Third, associate with other strong brands through networking and relationship building, and finally, remain a student of yourself and your industry. She also discussed how to protect one's personal brand, which common pitfalls can damage brands, and how to repair your brand if it's damaged.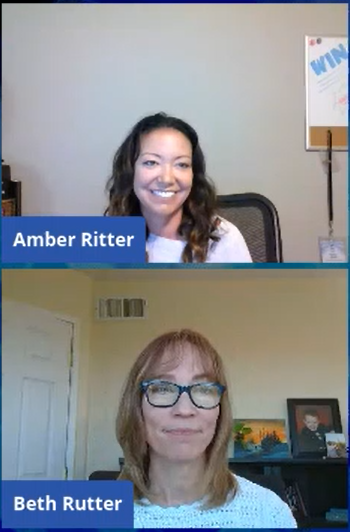 During the same time slot, Beth Rutter of Tradiebot Industries collaborated with Amber Ritter, who works for several collision industry leaders, to present "Opportunity of the Century." This dynamic duo addressed how to evolve and make a business smarter as it pertains to leadership, people development, and mentorship. Ritter stressed, "The market and the world is complicated right now, so we must look at what we can control and dig into the solutions. We must evolve to embrace the opportunity to come out of this better than before."
Diving into leadership, Rutter explained, "Leaders exist in every organization with varying degrees of power. They determine if the process gets changed, how fast it's implemented, and whether it's successful. There are many types of leaders, and people get stuck on how to lead, but it's actually super simple – to lead others, you must first be willing to lead yourself. And to help leaders emerge in our organization, we must first allow them to assume leadership of themselves, but many people don't want to lead themselves, so you might have to coach them through their excuses to help them come into their own. Empower your team and make sure they understand your vision. Lead yourself and help others reach their goals to keep your organization in a state of constant improvement. Leaders place responsibility for personal actions where it belongs, with the individual employees."
Rutter instructed attendees to create SMART goals in each area of their lives (career, financial, family/relationships, fitness, and spiritual), but then she added a sixth component to the standard of specific, measurable, attainable, relevant, and time-based. "SMART goals lack an important component: Passion! Goals without passion are just a to-do list," Rutter said. "Communicate your goals to your team, and tie them into something important, that allows you to paint a picture for your employees. If you don't, they'll paint their own picture, which may not align with your company's mission, but when you share the big picture with your team, it gets them moving in the right direction."
Talking about company culture and whether an organization is people-centric, Ritter discussed the correlation with high turnover rates and stressed, "High turnover continues to be frustrating when you hire without changing your practices. To retain your team, you have to evolve. Often, people fear change because there's a lack of trust, but if you're always hiring new people, you never get to develop your team and evolve with them. Stop hiring for 'culture fit' – when we're afraid to hire someone who will push the boundaries, we become stagnant. The results can be transformational when you hire people who challenge you and elevate the ways you think. That's how you move your organization to the next level!"
Ritter explored the importance of training and onboarding in hiring talent for a shop and making sure employees are in the right position. "It starts with making a commitment and getting your leadership team on board. We can't overwhelm new employees, or they won't stay. 'Overwhelm' means a lack of training and onboarding. You need to hire the right people, so during the interview process, make sure they understand the job role, and ask open-ended questions to determine if they're a right fit. Be prepared to sell your business to them, too."
Once the right person is hired, onboarding them with retention in mind is critical, according to Ritter. She recommended communicating early and often, and being prepared for their first day by having their workstation or body stall ready, along with their uniforms and business cards. "Be deliberate in welcoming them to the team. Passion helps us overcome a lot of uncertainty," Ritter said. "Success starts with a commitment from you, so commit to training that goes beyond the first month, track successes, and celebrate wins. We all want to know that the work we do matters, and organized training helps employees feel valued from their first day on the job."
Quoting Simon Sinek, who said "In order for employees to take responsibility, they first must be given it," Rutter suggested that mentorship is a great way for employees to take responsibility. She defined mentorship as "a relationship between two people where the individual with more experience, knowledge, and connections is able to pass along what they have learned to a more junior individual within a certain field," and then, she differentiated between a trainer and a mentor: "A trainer tells you the process to get from point A to point B, but a mentor tells you about the traps, pitfalls, and perils at each step of the way."
According to Rutter, "This is the most effective way of transferring knowledge. The mentee is given the chance to fail as often as they need, in a safe environment, and this helps them learn. Anything worth doing is worth doing badly until you learn to do it well, so for faster growth, give them the space to fail fast and often!"
 Rutter and Ritter jointly shared best practices for mentoring. First, be who they need you to be. Second, personal growth drives professional growth. Third, share your vision with your team, and be passionate! Fourth, become an employer of choice, and fifth, be valued and show value. Lastly, Ruttter again emphasized, "Training is not mentorship."
As the ladies concluded their presentation, Ritter encouraged attendees to take "one bite at a time. Plan a strategy that's manageable and measurable, and then, get your team engaged in the process." Rutter added, "When you focus on empowering your team, you can create the synergy you need to thrive, even when times are tough. If you don't know where to start, ask advice from someone whose business is positioned the way you want yours to be."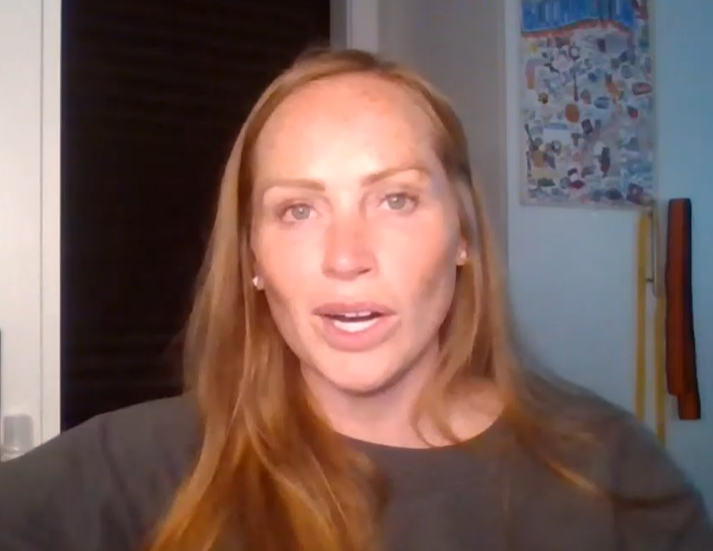 "Life in the Fast Lane" was the second keynote presentation of the event, featuring Mina Starsiak Hawk, the star of HGTVs "Good Bones" and the owner of Two Chicks and a Hammer. She began by discussing her background, comparing the ability to see the potential in a run-down home with a solid structure and turn it into a beautiful home to how a vehicle refinish professional can salvage a car with a good frame.
Starsiak Hawk discussed the challenges of growing her business in a male-dominated industry and how persistence and tenacity, along with the foresight to have a continency plan, helped her grow through those challenges. "There's definitely a bigger fight to legitimize my existence in my industry than there would be if I was a dude. And I'm okay doing that because that's just my day to day," she said, recalling a meeting with her business partner and an investor where the investor questioned their reputations and acknowledged that it could be "challenging to control our emotions because of our menstrual cycles… Every inch of me wanted to lose it on him, but that would just feed into this 'irrational woman in the industry' stereotype."
Sharing some private details of her life, Starsiak Hawk offered advice on how to juggle running a business, being on television, and maintaining a family and personal life. "I just keep doing what I do, and if I can't control it, I try to put it in the 'not my problem bucket.' The best advice on jumpstarting a company from scratch while trying to keep a full-time job – lots of caffeine," she quipped. "You've got to have your plan with your support people, whoever they are, really figured out. Get everyone on board, because after my nine to five, then I'm going to come home and hustle. You also have to know when to take a break and when to go all in."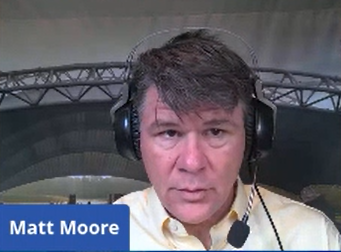 On Wednesday morning, Canales kicked off the second day of conference by introducing Matt Moore from the Highway Loss Data Institute (HLDI), who answered, "What Does the Data Actually Say About the Future of Vehicles and Vehicle Repairs?" After sharing his background and providing a synopsis of how HLDI strives to achieve their mission to save lives, Moore began discussing crash trends, explaining the correlation to economic activity. Examining his graph, he indicated, "If you control for how many miles we're traveling, you can see that, by and large, since the National Highway Safety Traffic Administration was first founded, there's been a long, steady decline. Before that, manufacturers could produce whatever vehicles in any way they wanted – and sell them without any regard to the impact on safety. We began crash testing vehicles around 1995, and since that time, we've been able to have a very positive effect on safety outcomes."
Moore continued to talk about vehicle crashworthiness by model year, how HLDI uses historical data to ensure their changes are having a positive impact in the real world, and how vehicles are rated. Examining collision avoidance technologies and how these systems affect insurance claim frequency, Moore noted that some of those technologies have resulted in significant reductions, while others have shown moderate reductions. The lane departure warning still has not derived any reductions in claim frequencies associated with that technology.
After explaining how vehicles are crash tested, Moore showed some examples of vehicles' ratings, along with videos depicting results for several vehicles with different systems. "When we started testing in 2013, only 10 vehicles scored the superior rating," Moore said, "but in 2021, 157 vehicles scored the top rating – and we're just getting started testing for the year, so that number is going to go up by quite a bit. We've shifted vehicles out of the basic and advanced ranges and pushed them into the superior range to get the maximum benefits from a highway safety perspective."
Stressing that "acceptance of these safety systems and consumer behavior has a big impact on whether we see these systems being used more often," Moore provided a plethora of data that showed how often consumers turn off different crash prevention systems. He dove into a detailed examination of multiple safety systems, their impact on collision frequency, and consumer behavior around the system.
Throughout the discussion, Moore interwove the topic of automation, which can prevent many crashes involving human error, approximately 94% of crashes. Yet, he predicted, "Despite eliminating a fair number of crashes, the severity and complexity of the repairs are increasing. There are two considerations with automation – consumer convenience and safety – but the autonomous vehicle designs that prioritize one might come at the cost of the other. Autonomous vehicle decision-making must not compromise safety for convenience, even when that's at odds with what consumers want."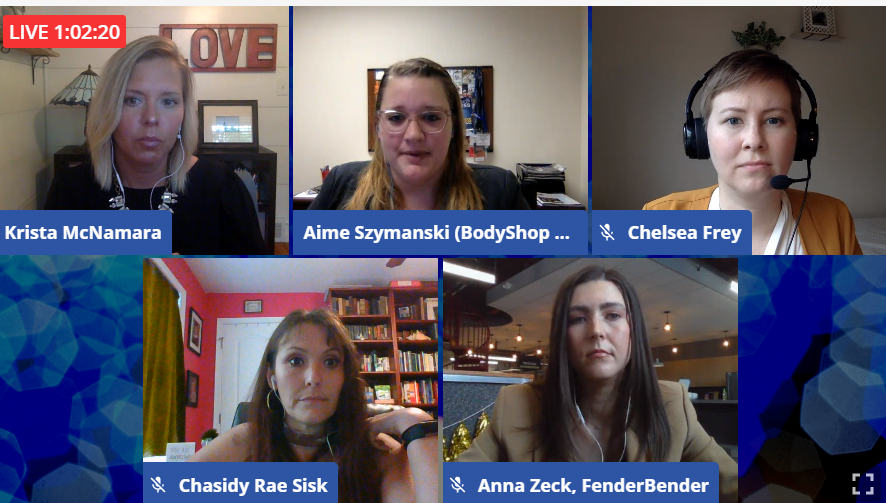 The final educational seminar during WIN's 2021 Educational Conference was a media panel entitled, "A Review of Industry Trends, Future, and Female Success," moderated by Krista McNamara, Editorial Director at Endeavor Media Vehicle Repair Group. Panelists included Chelsea Frey, ABRN Managing Editor; Aime Szymanski, Bodyshop Business Managing Editor;
Anna Zeck, Fender Bender Editor; and Chasidy Rae Sisk, Autobody News columnist.
McNamara kicked things off by introducing each panelist, who then took a moment to provide background information on herself and the publication for which she writes. Before diving into each topic, a poll was pushed out to attendees to take a pulse of the industry's thoughts on these trends.
Beginning with the topic of ADAS, McNamara asked Zeck to walk through the impact of ADAS on today's market, as well as some of the challenges being seen. According to Zeck, "It's extremely vital to be aware of those components, start to wrap your head around that, and understand how they need to be repaired. Not repairing these components correctly can really have serious and dangerous consequences. Overall, there's a lack of education, and there's a serious information gap among many of the stakeholders in this industry. It's an opportunity for shop owners and those in the industry who are knowledgeable to be seen as a resource."
Zeck stressed the importance of shops using the tools at their disposal to "produce very consistent estimates and work with insurers to hopefully reduce supplements and the inconsistency that sometimes begins issues with insurers… There are still shops that aren't doing things correctly every single time, and that's the first thing that every shop needs to do – repair the vehicle correctly every single time."
Next, Frey addressed what's happening with autonomous vehicles. Pointing out that there is a lot of confusion around what qualifies as autonomous, she discussed the different levels of autonomy, the concept of the connected car, and the need for investments in infrastructure. Citing a 2021 AAA survey on automated vehicles, Frey noted, "Just 14% of drivers would trust riding in a self-driving car, so there's a big discrepancy between offering this technology and getting consumer buy-in. Do they feel comfortable riding in these cars, much less owning them in the future?"
"So, it's hard to say how autonomous vehicles will affect collision repair in the future because there's so many factors," Frey continued. "In addition to infrastructure and consumer buy-in, there's regulations and safety. How long is it going to be before all these cars pass the tests and are allowed to be on the road? The technology is getting there, but there are many variables to have it fully functioning."
Transitioning into the topic of vehicle electrification, Szymanski joined in to discuss how electrification is impacting the collision repair space. "The big number everyone is talking about is 2050. That's the year that most legislation is going to phase out hybrid vehicle sales and internal combustion engines. We really need to start thinking ahead, because electric vehicles are only advancing, and that begins with focusing on changes in technology, like ADAS. Start small and plan for this influx of electrical vehicles, even though it seems like it's really far down the line."
Szymanski stressed the need for equipment and tooling as well as ongoing education. When McNamara asked how plastic repair works into the mix, Szymanski noted, "Plastics are the most lightweight next to aluminum, so we need to start becoming more educated on how to do those quick repairs, instead of doing a full replace. Plastic repair can really be an investment in training, but an overall return of that investment based on how it's performed in the shop. It's going to help the shop boost their customer satisfaction; they're finding ways to help them save money, while also giving them the best repair."
Shifting to management focused topics, McNamara asked Sisk about the changes that shops are making to retain talent. Sisk started by pointing out that retention begins with the recruitment process, specifically getting involved with students at younger ages to generate interest in the industry and then staying involved throughout their high school education to demonstrate to these collision students that the industry has a place for them. "It's all about providing a future vision and showing them what they can look forward to down the road."
Referencing the importance of shop culture, Sisk reported that shops have had success implementing flexible schedules and offering nontraditional benefits to promote work/life balance. She discussed the value of training, mentorship, and mapping out career paths that allow technicians to see the goals and their progress in a structured way. Sisk also emphasized the role that diversity, equity and inclusion play in developing a positive shop culture, pointing out that only 1% of collision techs are female and suggesting that the industry needs to do more to promote collision career opportunities to women and girls.
McNamara noted that continued training is vital to building a positive shop culture, turning to Frey who emphasized, "Training is essential to employee growth and retention, and it's essential for business success and longevity. In terms of employee growth and retention, 80% of our ABRN audience said they engage in online training, so it's clear that ongoing education is important to techs and shop owners. Employees need and expect continued education, training, and professional development because it shows commitment to their continued growth and improvement. It's also a way to improve the perception of the collision repair industry and retain employees, preventing them from going to different industries altogether."
Szymanski tackled the topic of marketing in today's environment: "Maintenance of marketing is vital for body shops or any business because they need to see your logo and have name recognition. People aren't thinking about where to go after an accident until after it happens. During the pandemic, those who maintained or grew their budget, that risk paid off 100%. Those who pulled their budget had no business by July 2020. You need to get out there and stay consistent."
WIN's media panel concluded with each panelist sharing some of their personal experiences in the collision repair industry, specifically as it pertains to the role that networking and mentorship have played in their careers.
The 2021 WIN Conference virtual platform allowed attendees to participate in polls, learn about MIWs and scholarship recipients, network with one another, and visit committee "booths" to learn about the various volunteer opportunities within WIN. For more information on WIN, visit womensindustrynetwork.com.