5th Annual Texas Trade Show Breaks Records, ABAT Announces Merger with HABA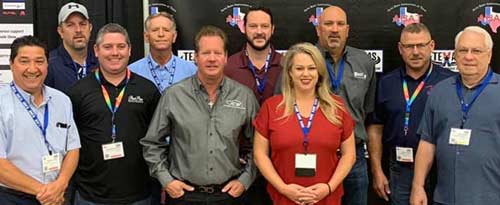 The Auto Body Association of Texas (ABAT) hosted its 5th Annual Texas Auto Body Trade Show at the Will Rogers Memorial Center in Fort Worth, Texas, on Sept. 20 and 21.
Attracting hundreds of collision repair industry professionals from Texas and around the country, the show broke every previous year's attendance record, with attendees excited to network with peers, engage in invaluable educational seminars, and learn about exhibitors' latest products and services. ABAT also used the opportunity to publicly announce its decision to merge with the Houston Auto Body Association (HABA) to create a larger united front and better serve the industry at-large.
ABAT and HABA have had a close relationship for several years. ABAT President Burl Richards communicates with HABA President John Kopriva frequently to discuss what each association has going on. Richards explained, "ABAT and HABA have been joined at the hip for some time since we're all striving to improve the collision repair industry in Texas and create stronger businesses that perform safe, quality repairs. A lot of ABAT's past successes have been increased due to HABA's support and involvement, and we believe that merging the two associations will give us a louder voice and make us that much stronger."
"Together, I believe that we can get more traction and accomplish more for this industry," Richards continued. "We want to move the needle, to make changes in the collision repair industry. The status quo, quite frankly, just isn't good enough; we need results! If we can't move the needle, all the hard work many of us do behind the scenes and all the time we take out of our lives to dedicate to the industry is all for naught. We don't want to simply say we're an association and get together once a year to network – we want to effect real change for the industry's benefit."
Before the public announcement, both Richards and Kopriva presented the idea to their respective boards, and both groups voted unanimously for the merger. According to Richards, "Everyone was 100% on board and really excited about it."
While the logistics of the merger have yet to be resolved, HABA will become the Houston Chapter of ABAT, joining ABAT's chapters in East Texas, Dallas, San Antonio and Austin, and ABAT hopes to add a Rio Grande Chapter in 2020. ABAT anticipates electing several Houston members to their Board of Directors.
Reiterating the importance of ABAT gaining strength in numbers through this merger, Richards pointed out, "We all know that insurance companies treat different markets in different ways, and various markets do things differently. Our goal is to create a single collision repair industry in Texas; we want all regions to be talking about the same things, to be educated on the same things. Then, we'll be able to say it's not just one segmented market doing things differently – it's the whole collision repair industry in the state of Texas."
The 2019 Texas Auto Body Trade Show was a huge success with a variety of educational opportunities for attendees on topics ranging from estimating to proper compensation to procedures, in addition to a large trade show that boasted over 60 exhibitors sharing their latest equipment and services. Platinum Sponsor AkzoNobel drew a lot of attention with their virtual spraying unit. Some of the event's additional sponsors included BASF, Autel, Axalta, English Color and Supply Inc., PPG, Reliable Automotive Equipment, Sherwin Williams, Single Source, Tasco Auto Color, AirPro Diagnostics, CARSTAR, FinishMaster, and KRI Tech, among others.
"This year's Trade Show was bigger and better than we could have imagined. The show floor saw great traffic, and our seminar rooms were full both days. We've always had great classes, but we took it to another level this time," Richards said. "With technology changing so quickly, you need to get educated and know what's going on in the industry. I'm confident that attendees walked away from this show with information to utilize their first day back to work. We're already planning for an even stronger show in 2020."
ABAT Executive Director Jill Tuggle added, "This was the best show we've had in the five years we've hosted the event. We've already received encouraging feedback from exhibitors and attendees who are already gearing up to return next year.
We couldn't have done this without the amazing support of our ABAT members and the exhibitors who took the time to attend both days to network and grow our industry here in Texas."
The 2019 Texas Auto Body Trade Show commenced on Friday, Sept. 20, with a private association roundtable. Early that afternoon, attendees chose from three educational sessions. Danny Gredinberg of the Database Enhancement Gateway (DEG) presented "Commonly Missed, Included and Not Included Estimating Items," while 3M's Shawn Collins discussed "Corrosion Protection: Is Your Shop Prepared for the Post Repair Inspection Era." Robert McDorman of Auto Claim Specialists taught industry professionals "How to Get Paid for Your Work: Receiving Proper Compensation for Proper Repairs."
On Friday, Sept. 20, at 3 p.m., three additional seminars were available, all of which offered a second iteration on Saturday, Sept. 21. Gredinberg and Ron Reichen of Precision Body and Paint collaborated in "Blue Printing: Not Your Grandfather's Estimate," Matthew McDonnell from Big Sky Collision Center shared information on "Shop Procedure Implementation," and Richards partnered with Verifacts Automotive's Chris Olilla for "Collision Repair Coaching: Giving Technicians What They Need to Do the Right Thing." Friday's educational session concluded with a Body Shop Panel.
Additional seminars on Saturday included an OEM Panel Discussion moderated by Reichen and Mark Olson of VECO Experts, and Collins' presentation on "Using Proper Materials and Getting Paid for It." Sam Valenzuela of National Auto Body Research also informed attendees on how to "Use BillableGenie to Get Paid for More Procedures at Better Rates."
The final educational seminar during the 2019 Texas Auto Body Trade Show was "Life After the Lawsuit: An Hour with Todd Tracy." Dallas-based attorney Tracy shared takeaways from the $42 million Seebachan litigation, discussed shop liability and the importance of OEM guideline adherence, and much more in a presentation that left attendees motivated and engaged.
ABAT is very pleased with the 2019 Texas Auto Body Trade Show and the feedback they've received.
The day after the event ended, Richards received an email from an attendee who admitted that he learned unexpected amounts of information about proper vehicle repair and intends to completely reevaluate the way his shop does business. Richards excitedly stated, "That's the message we're trying to spread! Get certified, obtain the training, invest in the equipment – do the right thing for your customers!"
Richards hopes to see the show continue to grow, and ABAT is eager to uncover ways to get more shops involved. Richards stressed, "We should have thousands of shops coming to the trade show, not hundreds. We know that if we can get a shop or its management team to come out and attend the educational piece, they can't help but change how they do business on some level, and it will definitely benefit them. It's a great event, and our number one goal for next year will be exploring ways to motivate more shops to come check out next year's show."
This was the first year that ABAT's Texas Auto Body Trade Show was overseen by Thomas Greco Publishing, Inc. whom the association partnered with earlier this year to produce Texas Automotive magazine. The education schedule was managed by Janet Chaney of Cave Creek Business Development.
ABAT's next major event, a Gala, will be held on the evening of Nov. 16 in San Antonio. The association's Board of Directors will meet before the Gala to work on next year's agenda. For more information about ABAT and its future events, visit abat.us.