Modern Auto Body Triples Production with Accudraft Paint Booths and Prep Station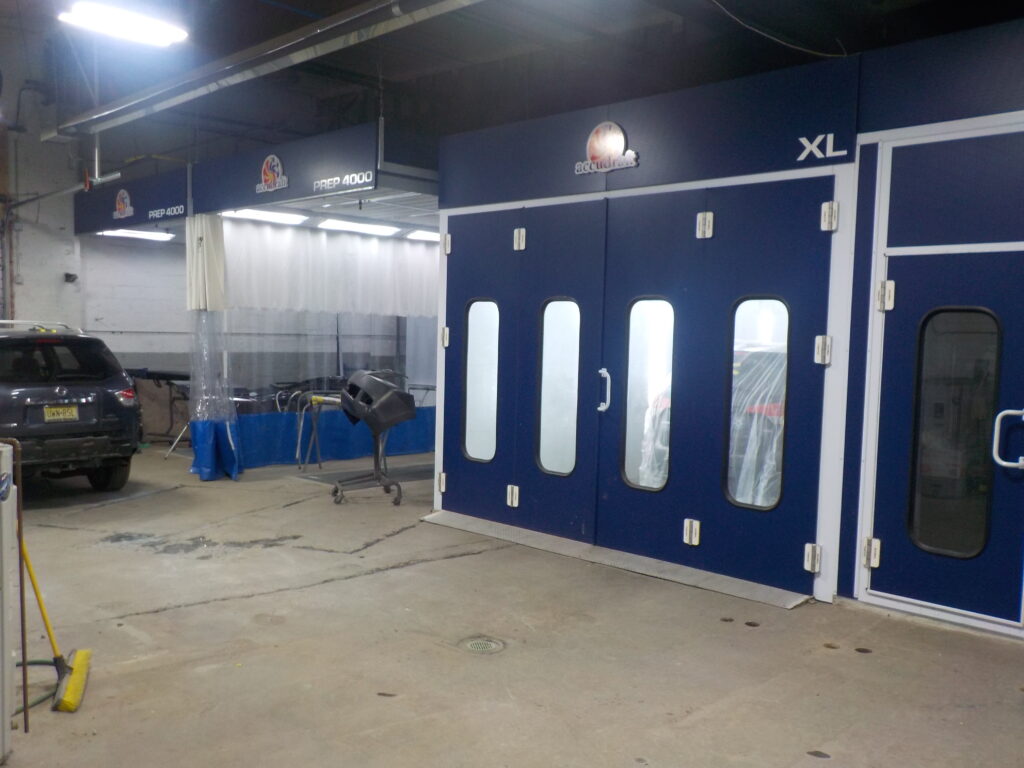 Founded in 1932, Modern Auto Body in South Orange, NJ, boasts a reputation for trustworthiness, superior quality, and customer service, but as word of the shop's excellence spread to neighboring communities, owner Jack Haberman identified the need to expand his space to meet his client's demands just three years after taking ownership of the business. In 2016, Modern Auto Body relocated to its current location, offering 14,000 square feet of production space. Knowing that he also needed to equip the shop with tools designed for high-volume operations, Haberman turned to Accudraft for all his paint hardware needs.
In addition to installing two Accudraft XL downdraft paint booths, Haberman invested in an AccuMix SS mixing room and an Accudraft Prep 4000 automotive prep station. "We selected Accudraft based on a combination of product capability, service and price," Haberman explained. "Anybody who has been in the industry longer than a couple of months has heard of Accudraft. They've had the reputation of being a company who can speed up the workflow while promising top-quality finished products. While we had a previous relationship with Accudraft, we still bid the work out to see which solutions would fit best with our new expansion. The Accudraft team came back with the best design for our needs – at a price point that worked within our budget.
"The new Accudraft equipment was a huge leap forward for us, and our business results prove it," Haberman continued. "This equipment has enabled us to scale from repairing 15-20 vehicles per week up to 45-50 vehicles in a week. The efficiency and cleanliness of the equipment also enables us to produce high-quality repairs at this increased throughput."
The Accudraft XL downdraft paint booths feature observation windows, dual skin insulation, and a highly efficient heating system, powered by either propane or natural gas. The downdraft technology ensures paint is sprayed more evenly without risk of overspray or contamination. The booths can also be customized to meet the shop's needs, an important factor for Haberman as he plotted out the best uses for his new space.
With the larger shop, Haberman was also able to optimize his team's workspace by adding prep and mixing stations, both of which were customized to meet the needs of Modern Auto Body. The Accudraft Prep 4000 automotive prep station provides a separate area for technicians to prime, sand, and perform light painting without allowing the potential for unwanted dirt and debris to enter the paint booths. The AccuMix SS mixing station enhances shop safety by providing a contained area for mixing paints, reducing employees' exposure to toxic chemicals and vapors.
Workplace safety and environmental conscientiousness are top concerns at Modern Auto Body. The facility frequently changes their paint booth filters, plus they utilize a paint recycler machine and Festool dustless D/A machines with HEPA filters for the body and paint shop. They also contract with Safety-Kleen for hazardous waste removal.
Modern Auto Body is also active in the community, sponsoring local Little League teams and donating to local schools, fire departments and rescue squads.
With a 4.9-star rating on Carwise.com, with close to 4,000 reviews, Modern Auto Body proves that the shop's success is due to the "relentless focus on quality and customer satisfaction," according to Haberman. His appreciation of great customer service was one of the deciding factors when it came to selecting equipment for the shop's new location. "Accudraft's customer service is one of the main reasons we selected them. They worked with us on the layout of the equipment, specified numerous custom aspects of the install, and then installed a great working set of booths," Haberman shared.
Installation and implementation of the new equipment was also seamless: "Accudraft delivered a turn-key solution on time and within budget," Haberman said. "Our paint department loves the Accudraft equipment!"
Haberman runs a busy I-CAR Gold Class collision repair facility, where his 20 employees repair an average of 190 vehicles each month, so he has experienced many of the industry's challenges firsthand. "The biggest challenge we have with insurers is the persistent inclusion of aftermarket and used parts. Also, ADAS technology is becoming increasingly relevant, leading to increased repair complexity and more frequent calibrations," Haberman said. "Shops must invest in the technology, equipment and training to stay relevant with today's vehicles."
Accudraft's customizable mixing room and prep station, along with the two Accudraft XL downdraft paint booths, appear to be just the investment Modern Auto Body was seeking in order to continue its growth. By increasing throughput, the shop is able to repair vehicles and release them to their clients faster. "After seeing first-hand what my Accudraft paint booths have done for my business, I'm a believer. It's true – you don't have to choose between quality or turnaround time," Haberman stated. "With Accudraft, you can have both."
Modern Auto Body
Location: South Orange, NJ
(973) 763-1149
Company at a Glance…
Type: Collision Repair
Facility Employees: 20
In Business Since: 1932
Number of Locations: One
DRP Programs: Six
Combined Production Space: 14,000 square feet
Accudraft
961 Rt. 10 E, Ste 2K
Randolph, NJ 07869
(800) 524-0340 x112
www.accudraftpaintbooths.com